Priti Patel announces new visa process for Ukrainian refugees
After heavy criticisism for its lack of visa centres, the UK announces simpler application process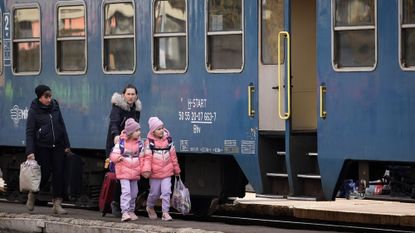 After heavy criticisism for its lack of visa centres, the UK announces simpler application process
The UK government has been heavily criticised for the paltry amount of visas granted to fleeing Ukrainian refugees.
Despite more than 2.1 million people having fled Ukraine according to UN estimates, Britain has granted just 957 visas as of today.
The European Union on the other hand has waived visas for all Ukrainian refugees for up to three years - with Poland alone taking in nearly 1.3 million people thus far.
The new plans announced today in the House of Commons will allow Ukrainian's with family already in the UK to apply for visas online rather than attending a physical visa centre, making the application process simpler and, supposedly, quicker.
The announcement by the Home Secretary Priti Patel, came amid growing dissent among voters and her own Conservative back benchers, with calls to set up more processing centres, particularly for the elderly and most vulnerable fleeing from Ukraine.
The Ukraine Family Scheme, that is currently in place, allows family members of people settled in the UK to join their relatives.
Speaking of the plans earlier, Patel announced:
"From Tuesday, I can announce that Ukrainians with passports will no longer need to go to a visa application centre to give their biometrics before they come to the UK,"
"Instead, once their application has been considered and appropriate checks completed, they will receive direct notification that they're eligible for the scheme and can come to the UK.
"In short, Ukrainians with passports will be able to get permission to come here fully online from wherever they are and will be able to give their biometrics once in Britain.
"This will mean that visa application centres across Europe can focus their efforts on helping Ukrainians without passports."
"The process is absolutely vital in terms of the verification, notification and permission to travel, but importantly to give people the status when they come to the United Kingdom to have that right to work, the right to access and benefits, and also the digital verification of their status," she told MPs.
Patel continued to stress the necessity of "checks" and a rigorous "verification process", because she explained there are a a small number of people with "evil intentions can wreak havoc on our streets". She referred to the 2018 Salisbury poisonings in her argument, suggesting that this incident demonstrated what Putin is "willing to do on our soil".
Meanwhile, hundreds of refugees fleeing the war in Ukraine have been queueing in freezing, snowy conditions in Poland, outside British visa centres.
Video footage showed elderly people and children having to wait outside for several hours to be let into the processing centre in Rzezsow, where temperatures are below freezing. The visa centre is reportedly no longer accepting walk-in appointments and people were being left to wait in the cold outside.
Labour MP Clive Efford said the visa centre in Rzezsow was in "complete chaos" and that "there's plenty of room inside but they won't open the doors."
Celebrity news, beauty, fashion advice, and fascinating features, delivered straight to your inbox!
Juliana Piskorz is a freelance journalist and broadcaster. Over the course of her career she has written for a smorgasbord of magazines and national newspapers including The Sunday Times, Dazed and Confused, the Independent, the Guardian, Refinery29 and The Face among others.
Before going freelance, Juliana was the Digital Editor at the Evening Standard Magazine and a Staff Writer at the Observer Magazine.
Juliana has a partcular interest in art, fashion, travel and the pop culture.