'A Syrian refugee moved into my London home for 5 months'
Marie Claire's entertainment editor Lucy Pavia and her husband Will had a Syrian refugee come to live in their London home for five months. Here's what happened.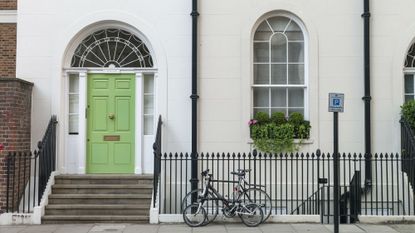 (Image credit: Rex)
Marie Claire's entertainment editor Lucy Pavia and her husband Will had a Syrian refugee come to live in their London home for five months. Here's what happened.
Do you remember the point in September 2015 when the Syrian refugee crisis became impossible to ignore? It was after the terrible picture of 3-year-old Aylan Kurdi had been on the front of every newspaper. When the government admitted they weren't doing enough to help. When Benedict Cumberbatch made a speech at the curtain call of Hamlet and some people called him a 'luvvie'. It was around that time that an IT consultant from Somerset called Richard Moore set up a website matching space in UK homes with Syrian refugees.
I found out about Homes For Syrians after a picture began circulating online of a 92-year-old war veteran called John Spicer. He was standing outside his house in Kent, WWII medals clipped to his chest, offering up his spare room to a refugee. 'If he can do it…' I thought. It took five minutes to click through to the website and sign up our house, Airbnb-style, adding a picture of our red front door and a few vague details about the room we were able to offer. Then I went home and told my husband Will.
The following day I got an email from Richard to thank me for registering. The charity was very new, he said, and there would likely be a lot of red tape to get through before someone could come to stay with us – if they ever did. Signing us up had been a very impulsive move on my part. We had got married just four months before. In a few months (though I didn't know it at the time) I would be moving to a new job at Marie Claire. Will was two months into an intense job in finance. We had never done anything like this before, we were not the sort of people you hear about who give up their weekends to volunteer, fundraise or go on marches. On top of that, we didn't know anyone from Syria and our knowledge of the country's history and customs was minimal. But we did have a spare room.
'I don't imagine this will happen' I said to Will at Christmas, 'but I suppose… the offer is there?'
Loujean arrived in the first week of January. She was 23-years old, from Damascus and – unusually for a Syrian woman – she had travelled to the UK alone. Richard emailed to suggest we meet up first ('just to see if you get on with each other'). Our first encounter felt like a weird cross between an Airbnb key transfer and a blind date. We greeted each other under the little clock at Clapham Common tube station. 'I'm Muslim, but I'm not a bad person' was one of the first things she said to Will and I once we'd settled down in a nearby café.
Two days later she dragged a huge pink wheely suitcase containing all of her possessions into our kitchen and started unpacking various Arabic foodstuffs she had bought that day, like Mary Poppins pulling things out of her carpet bag: bags of okra, pomegranate syrup, carefully wrapped packs of chopped meat. 'What time do you like dinner?' she asked, as if we'd just hired a personal chef. I said we'd take it in turns to cook and gave her a little tour of the house.
Homes for Syrians was not set up to provide permanent accommodation; hosts offer rooms to refugees with leave to remain for a time period of between one and six months. The aim is to give someone a base and roots at a time when they're feeling at their most rootless, to help them find their feet in a country they don't know. Will and I weren't really sure how long to suggest, but we settled on two months.
The first week was as awkward as you might expect it to be, as I attempted to bridge the language barrier (Loujean's English at that point was quite broken) by saying things like 'you want milk? Fridge here' or 'we eat now?' At one point I looked up a bit of Arabic and tried to say a few words, but that made her laugh so hard she had to sit down.
Before the war Loujean had been studying at the University of Damascus and it was her dream to go to University here so she could get a good job. To do this she would need to score a high mark in her IELTS, a fiendishly difficult exam that ensures foreign applicants to UK Universities have a decent level of English.
Her reasons for leaving Syria and discussion of her journey to the UK happened later, once we'd got to know each other better. There are several reasons why I need to be vague about that here, but you'll know by now from reading other accounts (including the story of pregnant Syrian refugee Aysha) that it is one of the most traumatic and dehumanizing experiences a person can go through. 'She's landed on her feet getting to live with you two', someone said to us when she moved in. I struggled with this, since nothing about her situation felt fortunate.
A few weeks into her stay I realised what an old romantic Loujean was – she had written a lot of beautiful poetry in Syria and built up a Facebook following before she had to leave. I had a hunch that she'd like Jane Austen, so we started working our way through the 1995 Pride and Prejudice box set with Colin Firth (because that's still the best one, right?)
P&P was a hit. We started saying 'indeed' to each other instead of yes, like Lizzie Bennett. She told me Mrs Bennett reminded her of all Syrian mothers obsessed with marrying off their daughters.
This was the exchange we had when we reached the episode where Lydia runs away with Mr Wickham (we often had to hit pause to translate the flowery language):
Loujean: 'Why is she crying?' Me: 'Because her sister has run away with Mr Wickham, but she's not married so the family are angry and ashamed.' Loujean: 'Ah OK – so they will kill her.'
Honour killings are still very common in Syria. 300 women and girls are murdered every year. We talked about womens' rights in the Middle East quite a lot. I would sometimes get angry about it. She would occasionally whisper 'those f**king men' and then cover her mouth in amused shock. She told me she was already over the hill because Syrian women tend to marry in their early twenties.
A perk of my job on a women's magazine is access to new make-up. I gave a lot of it to Loujean, mostly because she actually knew what to do with it (I can't do eyeshadow, I look like a clown) and she'd make herself up with artistic care, emerging from her bedroom looking like Monica Bellucci. I don't know if this was a Syrian thing or just a Loujean thing, but her commitment to dressing up for any and every occasion was magnificent. Once, when Will asked if she wanted to come to the pub for a friend's birthday party, she came downstairs in a full-length dark blue ballgown that was so elaborate I had only worn it once in three years (by that point we were close enough that I'd given her free reign on my wardrobe). 'I think that might be a little too much for the pub?' ventured Will. She went back upstairs and returned half an hour later. 'This OK?' she asked. She was in the knee-length cream lace bridesmaid's dress I wore to my sister's wedding.
Loujean is very beautiful, almost preternaturally so. I remember walking down the street with her to a friend's birthday party and a group of men just stopped on the street and gawped. 'Have I got something stuck to my face?' I thought for a moment. But they were just staring at Loujean.
February came and went. We asked if she wanted to stay with us a little longer. We were into the swing of things by that point and Will was helping her with her studies.
On my 30th birthday, despite telling her that the food was sorted, she stayed up until 3am making stuffed vine leaves for the party we threw at our house. On her birthday we introduced her to fish and chips and had a power ballad session in the kitchen (her favourite - Celine Dion).
If I'm making this all sound a bit 'Syrian chick meets British chick in a sassy tale of cross-cultural friendship!' it wasn't always that straight-forward. Sometimes Will and I felt wildly unqualified to have someone who had been through so much staying in our house. Once she was feeling comfortable enough with us we had some long and sad conversations about her family still in Syria and her journey to the UK, awful things spoken about by her in such a matter-of-fact way that I'd have to go into my bedroom afterwards and turn on the radio so she couldn't hear me crying through the wall. I didn't want her to see I was upset – what did I have to cry about?
She tried to put into words what it felt like to see pictures of ancient Aleppo in ruins, feeling physically sick with fear for her friends still trapped there. She said it would be a bit like looking on TV and seeing the Houses of Parliament and St Paul's blown up. We didn't talk much about Daesh – there didn't seem any point. 'They are not humans,' she would shrug.
In the end she moved out in June, after five months with us. At first it felt genuinely odd not having her around. Two months later she passed her IELTS. A month after that she was offered a place at a London University, where she's now doing a law foundation course and renting a room nearby. She recently wrote a brilliant essay on the British legal system and jokes that she's hoping to meet another dishy lawyer ('Six foot tall, blonde hair, lawyer' she said firmly when we saw each other a few weeks ago). Yesterday she messaged me a screengrab of her very first set of exam results. She'd got 75% – in an exam written in a language she had struggled with just a year before. 'I AM SO PROUD OF YOU,' I messaged back.
If you're interested in hosting or want to donate, visit Homes for Syrians for more information. Homes for Syrians is currently looking for London hosts in particular.
For regular updates on how you can help, follow @HomesforSyrians on Twitter.
Names in this story have been changed.
Celebrity news, beauty, fashion advice, and fascinating features, delivered straight to your inbox!