How to deal with your evil landlord
Landlord dispute? You SHALL get your deposit back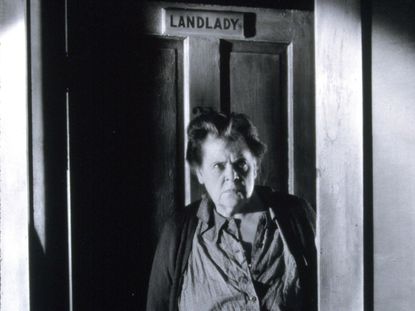 (Image credit: SNAP/REX/Shutterstock)
Landlord dispute? You SHALL get your deposit back
If you're having something of a landlord dispute, chances are, you're not the only one.
35% of UK homes are rented, and only 1.4 million people between 25 and 35 own their own homes. That's because the world is a miserable place and where once young people could buy a house at the age of twelve with the money from their paper round, we now need to have about one billion pounds to step onto the property ladder (or something...). So why, with so many of us renting our homes, is the lettings market still so unregulated?
Most people you speak to can tell you a rental horror story about a landlord dispute. When I first moved to London, I lived with six other people in a structurally unsound demi-mansion that hadn't been touched since 1950. Our landlord refused to do anything about the broken dishwasher, the non running showers or the large block of stone that was about to fall off the roof at any moment. Or the mice. Or the leaks.
Stories like mine aren't at all unusual. Citizen's Advice, who help people in horrible housing situations, say that it's gone too far. 'In the last year Citizens Advice has helped people with over 100,000 issues with their privately rented homes, from lost deposits to illegal evictions. Renters need better protection - they shouldn't be at the mercy of rogue landlords who consistently break the rules.'
Adam Blaxter, who founded property renting app, Rentr, has seen it all, telling me he's experienced, 'Dodgy landlords who fail to respond to maintenance issues, fail to register deposits, and do not provide appropriate information on tenants rights. Worse than that though are landlords who bug their property with video cameras to spy on their tenants, or let themselves into the property unannounced.'
Eventually, my housemates and I had to move out, we were only saved from paying the rent for the rest of the tenancy when I read something, by chance, about how much trouble landlords can get in if they don't protect your deposit. The point of that story isn't that I'm basically Erin Brockovich, it's that you have a lot more power than you realise as a renter.
The ball is actually very much in your court. Mike Iliff from the University of Law explained, 'although tenants can sometimes feel that they are left in a vulnerable position when they consider that their landlord has behaved unreasonably, there does exist a great deal of protection and support for them.' An estate agent, who wanted to remain anonymous, agreed. 'The law is actually in the tenant's favour, but property companies and home owners don't like to make that clear to renters, for obvious reasons.'
Turning up unannounced
It should be stated in your contract how much notice the owner has to give you before they can pop round. In no world is it okay for them to randomly let themselves in. In fact, even if there's water pouring through the ceiling they should try to get in touch with you in the first place. Unfortunately this isn't always the case.
Caroline, 26, from Kent, came home one weekend to find her landlord had been in and out of the property to look at the cellar. 'I felt really violated' she told us. 'That someone could just walk into my home without my permission. It was horrible.' A spokesperson from Citizen's Advice told us that this is totally unacceptable. Your landlord does not have a right to enter in any other circumstances unless they have a court order. If you are having problems with your landlord who is entering the accommodation without the tenant's permission, you should consult an experienced adviser, for example, at a Citizens Advice Bureau.' Raising your rent
So, you managed to find a half decent house, with a non-horrific commute that doesn't cost your whole monthly salary. And what happens? Your landlord wants to raise your rent. What can you do? You can end up really powerless, as Lottie, 24 from Surrey told us. 'We'd just settled into the flat, which wasn't perfect, when our private landlord announced a rent hike. It was a complete nightmare.'
Is there anything you can do about a rent hike? Well, it depends on what kind of contract you've got, says Greg Tsuman, Lettings Director for London estate agent Martyn Gerrard. This depends on if your contract is fixed term or rolling. It it's fixed, your landlord can't legally increase the rent within the agreed term. At the end of the term you can either negotiate and agree together an increased price for a new fixed term contract, or agree the tenancy is to roll on at an increased price. If the tenancy is a rolling one, your landlord can increase the rent to market value at any point in time as long as they give you one month's written notice.
Refusing to fix things
It's horrible when your dishwasher or washing machine breaks and your landlord won't sort it out. Adam Blaxter says that the most important thing is to keep a log of your communications: 'First of all, make sure you have a record of all communication. Report the problem in writing, ideally by using an online service like the rentr app. At the very least, keep a copy of any emails or text messages. They will be vitally important in getting your deposit back when you reach the end of the tenancy term. Make sure that you have a copy of your assured short hold tenancy agreement, and review it for the landlords duty to keep the property well maintained. Some repairs could be considered as major: these effect the habitability of the residence. Basics like sanitation & heating are essential for a property to be fit for human habitation; tenants should report concerns to their local Environmental Health department who have a number of powers they can bring to bear on the landlord to force them to maintain the property. In the case of houses in multiple occupation they have additional powers, including the ability to revoke the landlords license.'
Greg Tsuman says that there are regulations on how long landlords can wait before getting back to you. 'If you write to your landlord in order to get something fixed, new regulations state landlords need to respond to any queries within 15 days, even if it is to say they will not be replacing or fixing anything.' Not protecting your deposit
Greg says that if your landlord hasn't protected your deposit, they're violating the law. 'It's illegal for landlords to not protect tenants' deposits in a registered tenancy deposit scheme, so any that attempt not to are simply foolish. From the moment you part with your deposit, your landlord has 30 days to inform you where and how they have stored your deposit, as well as how you go about claiming it back.
'If your landlord hasn't protected your deposit, you can apply to a Small Claims Court to get it back. The minimum financial penalty for rogue landlords is the price of the deposit, although this can be increased to as high as three times the deposit value.' says Greg. Once your landlord becomes aware of their potential liability, it should be the push they need to give it back (it certainly was in my case.) Taking money from your deposit
'A deposit is always the tenant's, until ruled otherwise.' says Greg. 'Too many landlords seem to forget this. A landlord can't take any money from a deposit unless you agree, or a court rules to give the landlord some of the money, or an independent adjudicator linked to a tenancy scheme determines the landlord is owed some or all of the deposit.' There are three government backed schemes designed to help protect deposits that can settle disputes: mydeposits.co.uk, the Deposit Protection Service, and the Tenancy Deposit Scheme.
If things do start to go wrong, the most sensible place to start is with your estate agent. Marcus Di Rollo, from Coulters letting agents in Edinburgh, explains that they should be able to help. 'If you discuss your concerns with your estate agency then they can put pressure on your landlord to fulfil their obligations,' says Di Rollo. Getting the agency on side can help you to feel less small and alone, which is important because as a renter you can feel very powerless.
If your landlord is being difficult, it's also worth trying to understand why they might be acting that way. Adam Blaxter explains, 'landlords often have a great deal tied up in their rental property. It may be their pension plan, or it may be an emotional connection to an old home. Financial and emotional pressures are key triggers for many people, and landlords can act in a way that is difficult for tenants because they are scared and sometimes overestimate the risks and do not always know of services they can access to mitigate those risks.'
Celebrity news, beauty, fashion advice, and fascinating features, delivered straight to your inbox!
The leading destination for fashion, beauty, shopping and finger-on-the-pulse views on the latest issues. Marie Claire's travel content helps you delight in discovering new destinations around the globe, offering a unique – and sometimes unchartered – travel experience. From new hotel openings to the destinations tipped to take over our travel calendars, this iconic name has it covered.