Pamela Anderson opens up about her career and life experiences: 'I'm not a victim'
Though Pamela hinted the sex tape leak negatively impacted her career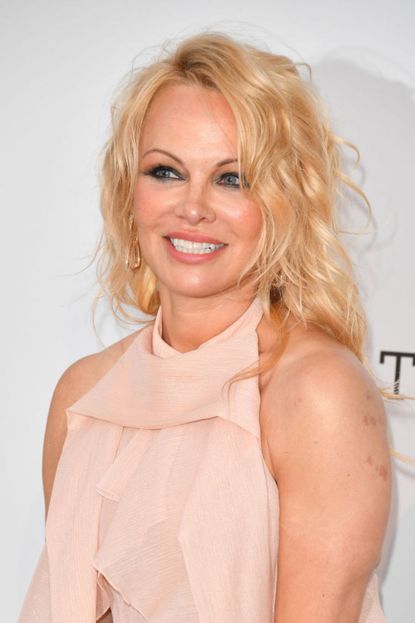 (Image credit: Getty images)
Pamela Anderson is set to release her own documentary to shed light on her career and life events, including the leaked sex tape, as well as the impact it had on her career and relationships, from her honest perspective.
The show, titled Pamela, A Love Story, will air on Netflix from January 31, and comes a few months after the miniseries Pam & Tommy, starring Lily James and Sebastian Stan, hit the small screen.
Pamela maintains she will never watch the 1995 intimate footage of her and former husband Tommy Lee, nor has she watched the mini series about the couple and the scandal as it brought back unsettling feelings.
Speaking to The Sun online, Pamela said: "It really gives me nightmares. I have no desire to watch it. I'm not going to watch it.
"I never watched the tape, so I am not going to watch this [miniseries].
"Nobody really knows what we were going through. They should have had to have my permission.
"There is no use figuring out ­anything about it. The damage is done. Why would I want to go through that again? I blocked that out of my life. I had to. It was a survival mechanism and now it is all coming up again.
"It was like a rape.
"My stomach feels like it has just been punched. I don't feel good. It feels like when the tape was ­stolen. You are just a thing that is owned by the world."
Following the leaked tape the Baywatch actor claimed her career was negatively impacted, as a movie she starred in at the time, Barb Wire, was not a success at the Box Office, and that too took its toll on the 55-year-old.
She shared: "It made me feel like I am such a ­horrible person, that I am just a piece of meat. That this should mean nothing to me as I am 'such a w***e', basically.
"They were like, 'Oh she was in Playboy, she likes to be in Playboy'. But Playboy was empowering for me. It was my choice. In this case it was like a rape.
"We were newly married, we were naked all the time and filming each other. It was us being goofballs. What they [the people in possession of the stolen tape] did is they found all the nudity they could and spliced it together. It was super-humiliating. You become a caricature.
"It was different for me as it was for Tommy. Tommy is a rock star and it kind of adds to the image.
"But I knew at that point my career was over. I was thinking I could have a more serious career."
Not only did the tape impact Pamela's career, but she has claimed it took its toll on her relationships too.
Pamela - who has sons Dylan and Brandon with ex Tommy - said: "I always felt guilty as I wanted to show my kids a traditional relationship and a man who is constant.
"I think what it all comes down to is that I never got over not being able to make it work with the father of my kids.
"And even though I thought I could recreate a family or fall in love with someone else, that is just not me. So I think that is probably why I keep ­failing in all my relationships. My ­parents were wild and crazy and madly in love and made stupid decisions and hurt each other. But they stuck it out and stayed together and I can see they are happy now.
"I think I would rather be alone than not be with the father of my kids. It is impossible to be with anybody else but I don't think I could be with Tommy either."
Despite the life-changing events Pamela experienced, she has insisted she doesn't want those moments to define her, be pitied or to be treated as a "victim".
She shared: "There were a lot of times when I said 'I don't care what people think' as that was the only choice I had. If I cared what people think then I wouldn't be here right now.
"But I care enough. I want to embrace the past.
"Embrace the truth. My life is not a 'woe is me' story. I am not a victim. I put myself in crazy situations - and survived them. As much pain as we can endure is kind of the catalyst to the great stuff.
"I am beyond grateful for the experiences in my life and I don't blame anybody for anything. I am glad it happened."
Celebrity news, beauty, fashion advice, and fascinating features, delivered straight to your inbox!
Maisie is a writer and editor, covering Royal News, Showbiz, Lifestyle content, as well as Shopping Writing and E-Commerce, for print and digital publications, including Marie Claire, Hello!, Fabulous, Mail Online and Yahoo!.