Thousands of anti-war protestors have been arrested across Russia
More than 4,300 arrests were made after protestors across Russian cities condemned Vladimir Putin's invasion of Ukraine.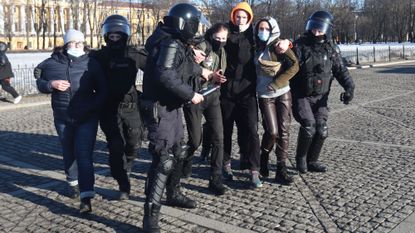 More than 4,300 arrests were made after protestors across Russian cities condemned Vladimir Putin's invasion of Ukraine.
Mass protests against the Russian invasion of Ukraine took place in cities across the world over the weekend, and in Russia thousands took to the streets to protest against the actions of their country's president.
According to the Guardian, more than 4,300 people were arrested across 21 Russian cities, as they demonstrated against Putin's invasion of Ukraine.
The independent monitoring group OVD-Info, which has been sharing information about anti-war protest detentions since the start of the Russian invasion of Ukraine, say that there have been more than 13,000 protesters detained in 147 Russian cities since the start of the protests in February.
In their latest data round-up, OVD-Info, report that on the 6th March at least 30 instances of protestors being beaten were confirmed and state that it is "likely that this number is much higher". They also claim that detained protestors have faced torture at police stations:
"At the Brateevo police station in Moscow, detainees were hit in the face and head with bottles, kicked in the legs, kneed in the stomach, dragged by their hair and had sanitizer sprayed in their faces.
Additionally, in some police stations, including at the Brateevo police station, lawyers were not allowed to visit detainees."
The group also commented that there had "been known cases of police officers searching for protest videos on the phones of passersby in central Moscow." They claim that if a person refused to unlock their phone, they were then threatened with an administrative charge of disobeying the police.
During the protests over the weekend, thirteen journalists were also detained as protesters, say OVD-Info, despite attending on behalf of their journalistic work.
Russia has recently cracked down on media establishments and threatened to jail journalists that they deem to be spreading "fake" news on the armed forces. BBC Director-General Tim Davie criticised the Kremlin's new legislation, which he says, "appears to criminalise the process of independent journalism".
Anti-war protesters also took the streets in several other cities across the world, such as in Brussels, Paris, London, Budapest, Barcelona, Belgrade, Tel Aviv, Gdańsk, Zagreb, Rome, Sofia, Tokyo, Amsterdam, Mexico City, Lisbon and New York.
Days ago, the story and video footage of 90-year-old Yelena Osipova made it onto several news sites. A survivor of the Leningrad Blockade and a well known activist, Osipova was arrested in St. Petersburg for protesting the invasion of Ukraine.
Celebrity news, beauty, fashion advice, and fascinating features, delivered straight to your inbox!
Amy Sedghi is a freelance journalist, specialising in health and fitness, travel, beauty, sustainability and cycling.
Having started her career in The Guardian newsroom working with an award-winning team, Amy's proud to have reported on a variety of topics, speaking to a range of voices and travelling far and wide to do so. From interviews on ski lifts to writing up breaking stories outside courtrooms, Amy is used to reporting from a range of locations (she's even been known to type up a story in a tent).
She also loves being active, spending time outdoors and travelling - with some of her favourite features she's worked on combining all three. Cycling and eating her way round the Isle of Man, learning to sail on the Côte d'Azur and traversing the Caminito del Rey path in Spain are just some of her highlights.
Covering a diverse range of subjects appeals to Amy. One minute she may be writing about her online styling session with Katie Holmes' stylist and the next she's transporting readers to the basketball courts of Haringey where she joined a group trying to lower knife crime in the capital.
While at university, Amy was awarded The Media Society bursary. Following her stint at the Guardian, Amy worked at Google and as well as writing for Marie Claire, she regularly contributes interviews, features and articles to National Geographic Traveller, The Guardian, The Independent, The Telegraph, Stylist, Refinery29, Glorious Sport, Cycling Weekly and Rouleur.
When she's not writing, Amy can be found trying to get through her towering stack of books-to-read, cycling down at Herne Hill Velodrome or looking for the next place to eat and drink with friends.