Sexist training seminar told female employees to 'act nicely' around their male colleagues
An anonymous source at accounting giant Ernst & Young has made some shocking allegations about the 'woman-bashing event'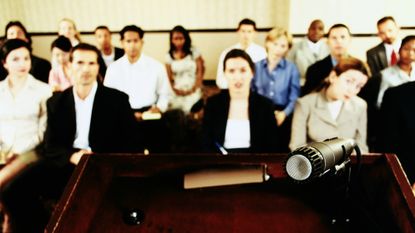 An anonymous source at accounting giant Ernst & Young has made some shocking allegations about the 'woman-bashing event'
Female employees at one of the world's leading finance firms were recently subjected to a 'sexist' training seminar, according to a report from Huff Post. The 30 executives attendees were told that they were expected to have a 'good haircut, manicured nails and well cut-attire that compliments your body type', whilst being simultaneously warned not to 'flaunt' their bodies, as according to the guidelines, 'sexuality scrambles the mind (for men and women).'
The allegations came out after an attendee of the workshop, held by accounting giant Ernst & Young in June 2018 in the firm's New Jersey office, leaked the 55-page presentation to the media outlet last week. Known only as Jane, she described the Power-Presence-Purpose seminar as a 'woman-bashing event' which left her feeling 'like a piece of meat.'
The presentation allegedly focused on how women should behave in a male-dominated workplace, with advice spanning everything from how women should dress, to how they should talk to their male colleagues and how to work most effectively around men.
As well as this, attendees were also advised to phrase their thoughts and ideas as questions when talking to men, and warned not to directly confront them in meetings or talk to them face-to-face, because men find it threatening.
To top it all off, the presentation allegedly used this analogy to describe the difference between how men and women process information:
'Women's brains absorb information like pancakes soak up syrup so it's hard for them to focus. Men's brains are more like waffles. They're better able to focus because the information collects in each little waffle square.'
The company has since spoken out about the course, saying it is 'no longer offered in its current form' and the June 2018 event was the last time that version of the training was held.
Celebrity news, beauty, fashion advice, and fascinating features, delivered straight to your inbox!
Niamh McCollum is Features Assistant at Marie Claire UK, and specialises in entertainment, female empowerment, mental health, social development and careers. Tackling both news and features, she's covered everything from the rise of feminist audio porn platforms to the latest campaigns protecting human rights.
Niamh has also contributed to our Women Who Win series by interviewing ridiculously inspiring females, including forensic scientist Ruth Morgan, Labour MP Stella Creasy and ITV's former Home Affairs Editor Jennifer Nadel.
Niamh studied Law in Trinity College Dublin. It was after enrolling in a Law & Literature class on her year abroad in Toronto that her love of writing was reignited. In no particular order, her big likes are Caleb Followill, hoops, red wine, sea swimming, shakshuka and long train journeys.