Focus on one savings goal
Saving for one goal over many is a more effective way to help conserve the cash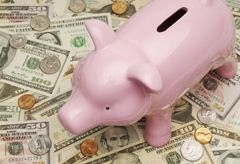 (Image credit: REX)
Saving for one goal over many is a more effective way to help conserve the cash
Trying to save for a deposit on a house, your two weeks in the sun as well as a new car? You may be hindering your monetary progress if you are focusing on more than one thing, according to a new report.
A study carried out by two researchers from the University of Toronto's Rotman School of Management discovered that those who want to save are increasingly able to put away vast sums of money if they focus on one goal, instead of splitting their priorities.
'If you have only one goal it puts you in a more action-oriented mindset and helps you save more,' says Min Zhao, an assistant professor of marketing.
Their research covered a wide range of different subjects, including households in rural India, middle-income dads in Canada, as well as working professionals residing in Hong Kong.
Despite the diverse group of people, the results were consistent and repeatedly showed that single savings goals were much more effective than multiple goals.
According to the results, having several savings goals distracted the savers, causing them to consider trade-offs between their different goals rather than just focus on implementing their preferred one.
These findings may now suggest that banks are taking the wrong approach when advising their customers on ways to save. 'The most common mistake is to emphasise numerous reasons to save,' insists Zhao.
Of course we will always have many things we need to save for, but the best thing to do, according to Zhao, is to integrate these goals into a moresingle or abstract goal, such as gaining financial independence or financial flexibility.
Celebrity news, beauty, fashion advice, and fascinating features, delivered straight to your inbox!
Natalia is a health journalist with 14 years experience in the publishing industry. She has worked for a number of well known magazines and websites including Marie Claire, Woman&Home, Top Sante, Boots and The Telegraph. She likes to think she practices what she preaches when it comes to health and fitness. Her athletic prowess began early. A keen fencer for 13 years, she wielded an epée for Olympic Team GB during her teenage years. She likes to think she made sword-fighting cool before Game of Thrones came along! While working on her sporting performance with the team, she also participated in a lot of nutrition and psychology training, When it comes to time off, you'll most likely find her up a mountain somewhere. It seems holidays have become a time for climbing several thousand feet, rather than chilling out. She's now hiked eight of the major mountain ranges across four continents – including the Appalachians, the Smokies, the Sierra Nevadas (she spent her honeymoon hiking to the top of Half Dome), as well as hitting the summits of Snowdon, Pen-Y-Fan (Brecon Beacons), Table Mountain in South Africa, the Blue Mountains in Australia and the Atlas Mountains in Morocco. She's also passionate about all things health, particularly vaccinations, and will happily jump on her soap box at any given opportunity to talk about their benefits to anyone who will listen!