Promise of freedom finally fulfilled for Paul and Rachel Chandler
After 13 months in captivity, Paul and Rachel Chandler finally arrive home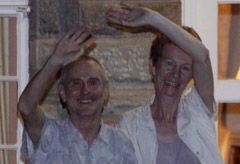 (Image credit: PA Photos)
After 13 months in captivity, Paul and Rachel Chandler finally arrive home
After 388 days in captivity, much of which was spent in solitary confinement, Paul and Rachel Chandler have emerged gaunt and frail but relieved to be free.
The couple, captured by armed pirates back in October 2009, were enjoying the trip of a lifetime having taken early retirement to pursue their love of sailing.
The pair were said to love the simple life, fishing off the boat, meeting new people and seeing the world, keeping their family and friends up to date with a blog - Lynn Rival's Voyages - with pictures and messages.
But the Chandler's lives were turned upside down when pirates captured them at gunpoint on 23rd October last year as they sailed from the Seychelles towards the east coast of Tanzania.
Despite several attempts at rescue, the first coming just six days after the Chandler's were hijacked, the couple were subjected to broken promises and failed rescue missions for 13 months.
Last December, Mr Chandler said: 'I would like to say to the British government, get us out by Christmas, by whatever means.'
In January 2010, the couple were cruelly separated and a painfully thin Mrs Chandler sent out a plea saying: 'We have not much time left and are being badly treated. Please help us.'
With the appointment of David Cameron and the conservatives, Mr Chandler made a last plea stating, 'If the government is not prepared to help, then they must say so because the gangsters expectations and hopes have been raised at the thought of a new government.'
In June an estimated £270,000, raised by family and friends, was flown to Somalia and passed on to mediators but in another cruel blow the money disappeared and the long-promised freedom was never granted.
With the situation deteriorating, a media blackout was called in July, which remained in force until yesterday afternoon when the couple were successfully freed.
Celebrity news, beauty, fashion advice, and fascinating features, delivered straight to your inbox!