App tells you when you're happiest
We are at our happiest at 1.50pm on Christmas day, and sex is the best way to boost our mood, says a new app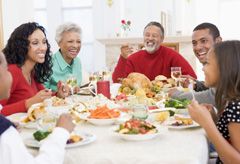 (Image credit: REX)
We are at our happiest at 1.50pm on Christmas day, and sex is the best way to boost our mood, says a new app
Research involving 45,000 Apple smart phone users claims that sex boosts our mood the most, while Christmas day is the happiest of the year with contentment levels peaking at 1.50pm.
The study, in conjunction with the London School of Economics, is based on iPhone users regularly posting updates of their levels of contentment via an app.
The findings show that people are at their happiest when gathered around the Christmas dinner table. The study aslo revealed a peak in Britain's happiness on the day of the Duke and Duchess of Cambridge's wedding on 29th April, while 8pm on 31st January is when people are at their lowest.
'Through April we see a series of spikes due to the bank holidays,' says project leader George MacKerron. 'Then on the royal wedding day itself, there was a spike at around 11am during the service and again at 1pm when William and Kate went on the balcony.'
The Mappiness project received more than three million responses over more than a year, recording people's activity, happiness and location up to five times a day.
People in Britain are most happy when having sex, doing exercise and visiting the theatre. Working, commuting and queueing came bottom on the list.
The findings confirm the belief that moods fluctuate during the week, and are at their best duriing the weekend.
Celebrity news, beauty, fashion advice, and fascinating features, delivered straight to your inbox!