The McKinney Video Of A Police Officer Pinning A 15-Year-Old Black Girl To The Floor Is Horrifying
The latest on the McKinney Texas pool party events.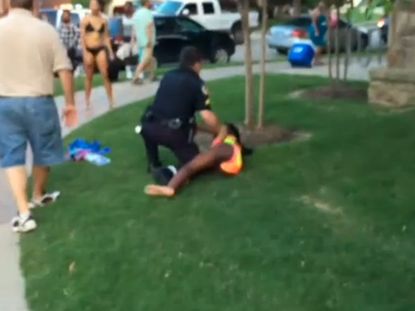 The latest on the McKinney Texas pool party events.
It was an end of school BBQ at a neighbourhood pool in McKinney, Texas, but it ended up with a 15-year-old girl wearing just a bikini being dragged to the floor like a rag doll and pinned to the ground by a police officer, as he swore and pointed a gun at the other teenagers.
The video of the incident in McKinney makes for awful viewing and is the latest in a string of incidents that question how US police treat minorities.
In a statement posted on Facebook, McKinney police said they were called to the party because a number of uninvited youths had gatecrashed and refused to leave the swimming pool. A fight then broke out, and more calls were made to police.
The video is seven-minutes long and shows the police officer, now identified as Corporal David Eric Casebolt, getting increasingly angry, pointing his gun at the teenagers and forcing a bikini-clad girl called Dajerria Becton to the floor, appearing to pin her down with his knees as she cried for her mother.
Brandon Brooks, who shot the now-viral Texas pool party video, when asked in an interview afterwards if he believed that racial discrimination was an element in who the police targeted, said: 'Yeah, most definitely. Some of the comments on my YouTube video were like, "Oh, the cameraman must be white," because I was standing in the middle of these hoards of black people, and I was the only one who the cops didn't look at or who the cops didn't put handcuffs on. I was basically invisible to the cops.'
The officer has since been placed on administrative leave and an internal affairs investigation is underway. That may not be enough, though, as last night around 800 protestors marched through McKinney, from a school to the swimming pool where the incident happened, carrying placards with slogans like 'My skin colour is not a crime' and 'Don't tread on our kids.'
The protestors and civil rights leaders are calling for the police officer at the centre of the pool party clash to be dismissed.
Celebrity news, beauty, fashion advice, and fascinating features, delivered straight to your inbox!