Marriage provides little benefit to children
Happy families are thought to be the best environment for children, but doesn't help them to develop social skills and intellect, says a new report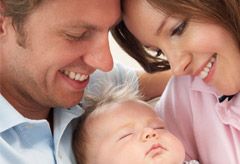 (Image credit: Rex Features)
Happy families are thought to be the best environment for children, but doesn't help them to develop social skills and intellect, says a new report
A report from the Institute for Fiscal Studies questions David Cameron's promise to give tax breaks to married couples, claiming marriage provides little educational or emotional benefit to children.
The research says pupils with married parents are known to make better progress at school, but concludes that this was because more affluent and better-educated couples were likely to marry.
'On average those who marry tend to come from more advantaged families, and are more cognitively and emotionally successful themselves than those who cohabit,' says Ellen Greaves, research economist at the IFS.
The Prime Minister has repeatedly expressed his desire to support the union of marriage through the tax system, with supporters arguing that marriage benefits children. But the IFS research directly questions whether such a policy could be justified.
The study, which followed the development of 19,000 babies in the UK, suggests children born to married couples were likely to perform better in assessments including vocabulary, reading and maths.
The gulf, however, disappeared when differences in the parents educational achievements, social class and family structure were considered.
Anastasia de Waal, head of family policy at the think-tank Civitas, says it is crucial to understand the meaning of marriage.
'Why are people with low educational levels not getting married?' she says. 'We do need to think about what marriage means.'
Do you think marriage is important for the development of children? Is marriage losing its meaning? Let us know your thoughts by posting a comment below.
Celebrity news, beauty, fashion advice, and fascinating features, delivered straight to your inbox!