Marriage annulled because wife thought about having an affair
Italian judges have set an astonishing legal precedent by granting annullment to a couple on the grounds of the wife merely considering an affair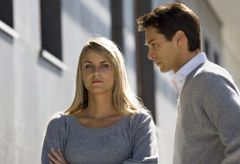 (Image credit: Rex Features)
Italian judges have set an astonishing legal precedent by granting annullment to a couple on the grounds of the wife merely considering an affair
In an extraordinary ruling in Italy, a wife has had her marriage annulled because she thought about having an affair, despite the fact that she never went on to betray her husband.
The Cassation Court, Italy's highest judicial authority, backed the decision to dissolve the marriage because the woman had in effect breached the promise of a good marriage, even though she had not physically betrayed her husband.
Gian Ettore Gassani, chairman of the country's association of matrimonial lawyers, said: 'I find it shocking and very perplexing that the court should rule on what is a virtual betrayal when real betrayals frequently go unpunished.'
Court sources say both the husband and wife told judges that she had often considered the idea of having an affair and that there is more to the union of marriage than sexual fidelity.
This admission that she had thought about having an extra-marital affair was considered sufficient evidence by judges in Rome to back the annulment, presented to a regional appeal court in Bologna.
The woman, who has not been named, was trying to overturn the ruling to gain from financial arrangements including alimony, but as a result of the verdict she will not receive any such benefits.
James Maguire, a British family lawyer, called the ruling wrong and bizarre, but claimed it was unlikely to have any implications for British couples or our courts.
Do you believe this legal ruling sends a dark cloud over anyone who admits to thoughts of infidelity within the boundaries of marriage? Do you agree that merely thinking about an affair is the same as physically embarking on one? Post your comment below
Celebrity news, beauty, fashion advice, and fascinating features, delivered straight to your inbox!