Jubilation as all 33 Chilean miners are rescued
After 69 days of anticipation, the 33 Chilean miners have been successfully rescued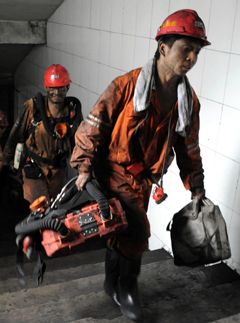 (Image credit: Rex Features)
After 69 days of anticipation, the 33 Chilean miners have been successfully rescued
The president of Chile has stated that the country will never be the same again after the completion of the extraordinary rescue operation that freed the 33 miners trapped underground for 69 days.
The flawless 22-hour long operation saw each miner hoisted through 2,000ft of rock, following the longest underground entrapment in history.
Mr. Urzua, the shift supervisor at the mine who has been credited with helping the miners endure the early days of their ordeal said, 'We have done what the entire world was waiting for. We had strength, we had spirit, we wanted to fight, and that was the greatest thing.'
The miners wore a bio-harness designed for astronauts, which monitors their heart rate, breathing, temperature and oxygen consumption, and sunglasses to protect their eyes.
The miners are now being treated at a hospital in nearby Copiapo, where the rooms have been artificially darkened to enable them to adjust to the light. But doctors are hoping many will be well enough to return home as early as today.
In a televised address to the nation, president Sebastian Pinera said, 'The miners are not the same people who got trapped on 5th August.'
'What ended up as a real blessing from God started as a possible tragedy. But the unity, the faith, the compromise, the solidarity of the Chileans in those sixty nine days makes us very proud,' he added.
The rescue operation began shortly after 23.15 on Tuesday 12th October (02.15 GMT on Wednesday) and was successfully completed when Manuel Gonzalez, mine rescue specialist and first man to make the decent underground to coordinate the procedure, emerged safely in the early hours of this morning.
Relatives of the freed men climbed a hill where 33 Chilean flags were flying, one for each miner, to give thanks for the rescue. 33 balloons in Chilean colours were also released above the mine.
Celebrity news, beauty, fashion advice, and fascinating features, delivered straight to your inbox!