Hillary Clinton Has Joined Instagram And Her First Post Was Perfect
Smart and witty, Hillary Clinton's first Instagram post was everything.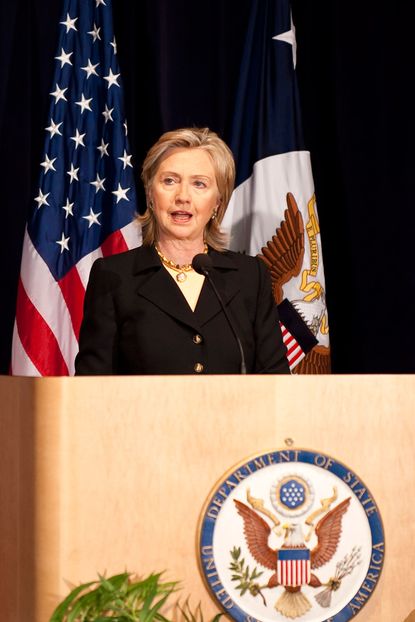 (Image credit: Rex Features)
Smart and witty, Hillary Clinton's first Instagram post was everything.
Stop what you're doing, Hillary Clinton has joined Instagram and her first post was smart, witty, accessible and so her.
Going with the old adage that laughter is a universal language, the frontrunning Democratic 2016 presidential candidate kicked off her Insta strategy with a LOL-some post.
Referencing her autobiography, Hard Choices, the former Secretary of State made like she was struggling to decide which colour trouser suit to wear. Simultaneously, poking fun at her known love of 'pantsuits' and, we suspect, having a dig at the speculation women, in particular, face when it comes to their appearance. It's fair to say she totally owned her Instagram debut.
But she shouldn't get all the credit. Two women, Katie Dowd, Hillary's digital director, and ex-Google exec Stephanie Hannon, chief technology officer, are in charge of Clinton's social media strategy for the 2016 election campaign. So far, so brilliant, ladies.
While we're on the topic of Hillary casually owning her presidential campaign and taking on her fashion haters, here are 9 quotes that show Hillary doesn't really give a damn:
1. 'And it requires, for a woman, usually in today's world still, an extra amount of effort because I think it's - the fact that women are still sometimes judged more critically. If you are in the courtroom or you are presenting a case, it still is a fact - and this is not just in Kyrgyzstan, this is everywhere - that when a man walks into a courtroom it's rare for someone to say, "Oh, look what he is wearing." But if you walk into a courtroom, or any young woman walks into a courtroom, people are going to notice. And that will be an additional requirement that you have to meet.'
2. 'I feel so relieved to be at the stage I'm at in my life right now. Because you know if I want to wear my glasses I'm wearing my glasses. If I want to wear my hair back I'm pulling my hair back. You know at some point it's just not something that deserves a lot of time and attention. And if others want to worry about it, I let them do the worrying for a change.'
3. 'You may not agree with a woman, but to criticize her appearance - as opposed to her ideas or actions - isn't doing anyone any favours, least of all you.'
4. 'Insulting a woman's looks when they have nothing to do with the issue at hand implies a lack of comprehension on your part, an inability to engage in high-level thinking.'
5. MODERATOR 1: OK. Which designers do you prefer?
HILLARY CLINTON: What designers of clothes?
MODERATOR 1: Yes.
HILLARY CLINTON: Would you ever ask a man that question?
MODERATOR 1: Probably not. Probably not.
6. 'If a woman wants to succeed in the public arena, she needs to grow skin as thick as the hide of a rhinoceros. I have certainly, as you can tell, have had to learn how to do that, and there's a lot of good moisturizers I can tell you about if you're interested. The second thing is to learn how to take criticism seriously but not personally.'
7. 'If I want to knock a story off the front page, I just change my hairstyle.'
8. 'When I began this book, Hard Choices,, shortly after leaving the State Department, I considered a number of titles. Helpfully, the Washington Post asked its readers to send in suggestions. My favorite was "The Scrunchie Chronicles: 112 Countries and It's Still All about My Hair."'
9. 'I'm going to be pitching Andy [Cohen] on a new show for Bravo… we can call it "Project Pantsuit."'
Celebrity news, beauty, fashion advice, and fascinating features, delivered straight to your inbox!