Here's what you can do this Christmas to campaign for free, safe and legal abortion in Ireland
As 11 women every day travel from Ireland to Great Britain for safe abortion treatment, a powerful new campaign highlights their journey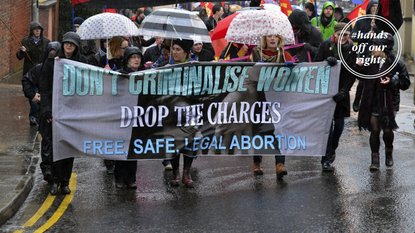 As 11 women every day travel from Ireland to Great Britain for safe abortion treatment, a powerful new campaign highlights their journey
As you pack your suitcase to head home for Christmas, spare a thought for the 77 women every week who are forced to travel to England from Ireland for access to safe abortion treatment. A new Christmas initiative by London-Irish Abortion Rights Campaign aims to highlight their emotional journey and challenge governments on behalf of the 87% of people in Ireland who have said they desperately want expanded access to abortion.
In Ireland and Northern Ireland, abortion is illegal, even in cases of rape, incest or foetal abnormalities, and is only permitted if a woman's life is at imminent risk. Any woman or girl who procures an abortion or anyone who assists a woman with abortion can be criminalised and imprisoned for up to 14 years. In 2014, the Family Planning Association performed 837 abortions in England to Northern Irish women and girls. Meanwhile, figures from the Rape Crisis Centre show that at least 197 women and girls who attended their clinics were pregnant as a result of rape - with 25% going on to terminate the pregnancy, meaning they had to leave Ireland or use illegal abortion pills.
This Christmas, a new campaign called #choice4xmas is being launched by the London-Irish Abortion Rights Campaign – a collective of London-based Irish expats who are part of the 600-strong network of people lobbying for choice and change in Ireland. They are calling for a mass social media 'check in' for Irish expats going home for Christmas to show their support for women travelling in the other direction, by 'checking in' at ferry ports and airports using the hashtag #choice4xmas.
Sarah travelled to London from Ireland for an abortion some years ago. She now lives in England and says, 'I remember the stress over the cost and the need to travel by myself, as I felt I had nobody to turn to. If I had been able to discuss all my options with my GP who had the freedom to talk openly with me, maybe I wouldn't have felt the decision to be so black and white.'
'London-Irish ARC is asking the governments on the island of Ireland to face facts and put aside the moral quandary they are in. We all need to realise the situation is far from right and wrong – it is about supporting Irish and Northern Irish women in making these difficult decisions. Ireland and Great Britain are less than an hours' flight apart – yet women, both north and south of the Irish border are denied the same rights as their British counterparts.'
Siobhan Fenton, spokesperson for London-Irish ARC says, 'Christmas is such a happy time for me. I miss my family, I miss the country, so arriving at the terminal and hearing the accents, everyone laughing and joking, I already feel like I'm home. But knowing that, if I was pregnant, I would be afraid to go back there is a really tough thing to even think about. What if something went wrong? Would I be able to get out quickly enough? My life doesn't seem to matter to my own community, and the law backs that up.'
Wherever you're travelling home to this Christmas, help to make a difference for those 11 women a day making that painful journey by checking in on Twitter, Facebook and Instagram to help bring about #choice4xmas Follow London-Irish Abortion Rights Campaign on Twitter or Facebook
Celebrity news, beauty, fashion advice, and fascinating features, delivered straight to your inbox!