Wrangler launch anti-cellulite jeans
Lizzie Jagger is the face of the Denim Spa range which is said to moisturise and smooth skin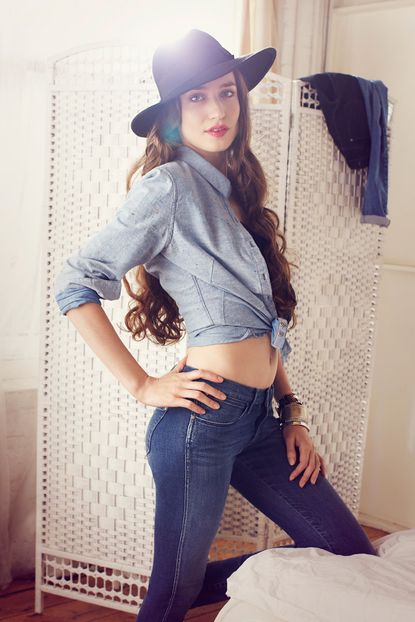 Lizzie Jagger is the face of the Denim Spa range which is said to moisturise and smooth skin
Lizzie Jagger is the face of Wrangler's latest range of jeans that promise to reduce cellulite, moisturise and soothe sensitive skin.
The Denim Spa jeans are sprayed with moisturising ingredients (including apricot kernel oil, passion fruit oil, rose hip oil, shea butter, monoi de Tahiti and squalene) during the manufacturing process and these properties then transfer to the skin when the jeans are worn.
The new Wrangler Denim Spa jeans come in three finishes: Smooth Legs (the anti-cellulite model), Olive Extract (for moisturisation) and Aloe Vera (to soothe sensitive skin).
The Smooth Legs jeans (the ones that aim to banish cellulite) were subjected to a consumer trial conducted by France's Institut Adriant in which 160 women were asked to wear the jeans for 6 weeks, 5 days a week and at least 8 hours a day.
It's claimed that after four weeks 69% stated the state and appearance of their thighs had improved, and in particular 67% stated that the 'orange peel' appearance of their skin was better.
The smoothing and shaping power of the jeans will last for 15 days' wear or 6-8 washes. After that, a reload spray is sold with the jeans and will need to be applied after every wash.
In total the jeans can retain their cosmetic effects for around 67-95 wears, according to Wrangler.
The Wrangler Denim Spa range come in three different skinny leg styles and cost £85.
Would do you think? Will you give the anti-cellulite jeans a try? Let us know your thoughts in the comment box below.
GET SHOPPING: 50 HOT NEW SEASON BUYS
Celebrity news, beauty, fashion advice, and fascinating features, delivered straight to your inbox!