The 99p Dress: Would You Buy It And What's The Real Cost?
This dress costs the same as an ice cream. Or does it?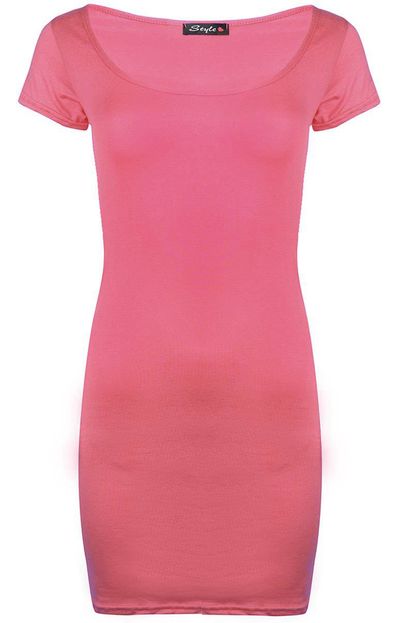 (Image credit: OMG Fashion/REX Shutterstock)
This dress costs the same as an ice cream. Or does it?
This dress costs the same as an ice cream. Or does it?
Available as of midnight, this 'sizzling summer' mini dress at a price of just 99p.
The dress, made by a brand called OMG Fashion is stocking the polyester jersey number in sizes 8-22 and in four colours - coral, black, wine and grey. See all the pictures in the gallery above.
What a bargain, you say! But would you actually wear it?
Here's why I wouldn't…
1. The Fit Oh wow is it a clinger. If our basic analysis of cut and quality has taught us one thing, it's that you get what you pay for in this fashion world. As sheer as a net curtain and in a virtually spray-on fit, anyone over a size 8 could potentially feel like a bag of marbles in this sheath. Not to mention how short it is – the less you pay, the less fabric you actually get, it seems.
2. Your Worth A dress should cost more than an ice cream. Of course it should. Would anyone really feel good about telling other people that their look was so, well, cheap? We prefer it when people gush about how nice our outfit is (duh) and we're just not sure they'd do that with this one...
3. Someone Else's Life? Could your bargain 99p dress actually cost someone else their life? From experience we know that if a manufacturing process hasn't been vetted and unethical, international labour has been used to make it big problems can arise. Of course, OMG Fashion could be operating at a loss on each sale, simply using this as a marketing stunt. Let's hope that's the case, ay?
UPDATED: Friday 26th June, 8:53AM The makers of the 99p dress, OMG Fashion, have got in touch with us to reassure everyone that their manufacturing processes are all above board and that this was indeed just a publicity stunt.
'The dress is a promotion at 99p it's simply a publicity stunt, we make a loss per dress but it drives traffic to our site. The dress is not made for 99p infect it costs is more than this to buy wholesale. The dress is produced and Manufactured in Leicester in the UK and is not sweat shop made.'
Celebrity news, beauty, fashion advice, and fascinating features, delivered straight to your inbox!