Exclusive Interview: Olivia Palermo Shares Her London Fashion Week Highlights
Olivia Palermo picks her favourite pieces from the SS15 collections and teaches us how to style them…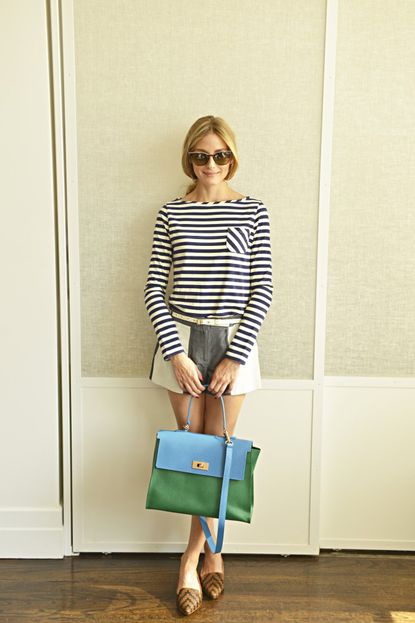 Olivia Palermo picks her favourite pieces from the SS15 collections and teaches us how to style them…
'I treat the new season shows like going back to school,' Olivia Palermo laughs as she describes the vibe at London Fashion Week this season. 'Everyone's just been on holiday, we're all still slightly tanned - September is the best.'
As a front row fixture and street style favourite (see the gallery above for proof on that one), Olivia's spent the last week casting her well-honed eye over some of the capital's best new designer collections, teaming up with Pinterest to curate personal style guide boards as she goes.
Here she tells us what's on her new season wishlist and how she makes the most of what she's got in her wardrobe...
'Emilia Wickstead is always a great way to start London Fashion Week. She creates these timeless, elegant silhouettes – great investment pieces that you will always love and can reinvent over and over again. Trends come and go but, for me, it's all about having a wardrobe of core, beautiful pieces like these that will never go out of style.'
'Pringle is one of the key reasons I keep coming back to London Fashion Week each season. I get so excited about their knitwear. I'm usually on the road for at least a month at a time when I travel, so I'm limited to two or three suitcases maximum. For me, it's all about re-styling what you have. My wardrobe is built around great staples – trousers, jeans shirts and sweaters – then anything more 'trendy' I tend to grab from the high street on the go. There are Zaras everywhere, you know!'
'I thought the prints at Burberry were beautiful this season. The key to getting that mix and match look right is to play with different combinations in front of the mirror and find out what suits you. For me to Pin something on my board, or to buy it, it needs to be wearable and versatile. A dress is great, but I usually look for individual pieces that you can get more miles out of.'
'Matthew Williamson really went back to his signatures this season - those gorgeous chiffons and watercolour-look prints. Colour is so important to me when getting dressed. As a New Yorker I do love an all-black outfit, but there has to be some extra interest - whether it's gold detail or a pair of shoes that pop.'
'I'm so happy for the Marchesa girls, it's been a huge season for them. As Georgina and Keren [Chapman and Craig, the designers] are both British it made perfect sense for them to show in London for their 10 year anniversary and it was so great to be there with them. What they do is basically couture - it's insanely beautiful.'
Check back tomorrow for part two of our interview with Olivia, where she tells us more about her personal style, her life in the spotlight and that amazing wedding dress…
Celebrity news, beauty, fashion advice, and fascinating features, delivered straight to your inbox!