Emma Donoghue triumphs with her latest novel
Emma Donoghue's latest novel, Room, achieves overwhelming critical acclaim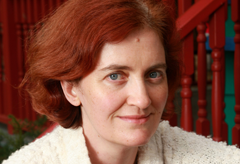 (Image credit: Rex Features)
Emma Donoghue's latest novel, Room, achieves overwhelming critical acclaim
Emma Donoghue's most recent novel, Room, has been causing a stir since Picador won a bidding war for the publishing rights.
The book was inspired by the media frenzy surrounding the chilling case of Joseph Fritzl, who locked his daughter Elizabeth in a basement for 24 years, along with three of the seven children he fathered with her through rape.
Despite the similar storyline, however, Donoghue is keen to contextualise the link between the Fritzl case and her novel.
'To say Room is based on the Fritzl case is too strong. I'd say it was triggered by it. The newspaper reports of Felix Fritzl, aged five, emerging in to a world he didn't know about put the idea in to my head.
'That notion of the wide-eyed child emerging in to the world like a Martian coming to Earth; it seized me.'
Donoghue tells the story through a child's eye, removing the sexual crime in hand. Instead, she delivers an innocent and honest account of the relationship between mother and son.
She says: 'The idea was to focus on the primal drama of parenthood. It produces some of the most extreme emotions you'll ever have. I wanted to focus on how a woman could create normal love in a box.'
Emma Donoghue's incredible ability to draw the reader into her mesmerising story, set behind a locked door in a room measuring 12 feet by 12 feet, has won her huge acclaim, with Room becoming the bestselling and fastest-selling title on the Man Booker shortlist.
The Sunday Times commends the author's style saying: 'Donoghue has crafted a narrative that moves as breathlessly as a serial-killer thriller while convincingly portraying, with the precision of a science-fiction novel, how a boy might believe that a room is his whole world.'
Come and hear Emma Donoghue read extracts from Room at 7.30pm on Monday 11th October, the eve of the Man Booker Prize, at the Roundhouse, Camden.
Tickets are £8 and available online from www.roundhouse.org.uk
Celebrity news, beauty, fashion advice, and fascinating features, delivered straight to your inbox!