Zooey Deschanel On How She's Helping Young Girls To Tackle Online Bullying
We didn't think we could love Zooey Deschanel any more. Then she became our November cover star and explained how – and why – she's created an online space where girls can't be bullied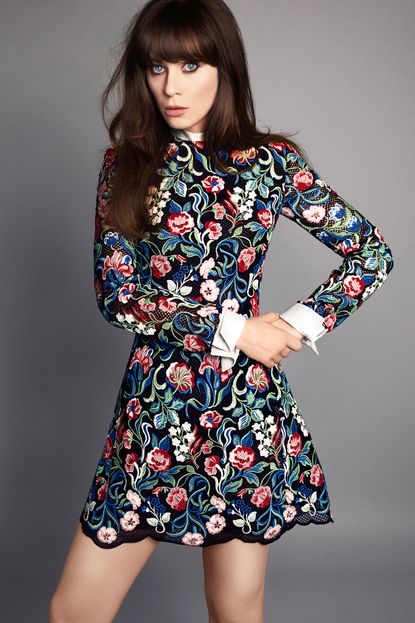 (Image credit: Tesh)
We didn't think we could love Zooey Deschanel any more. Then she became our November cover star and explained how – and why – she's created an online space where girls can't be bullied
Zooey Deschanel is our hero. Not only does the New Girl actress manage to make our sides hurt with laughter on a regular basis, but she's doing her bit for the future, too, ensuring she uses her celebrity status to create a better world for young girls. By combatting online bullying.
We speak to Zooey in the November issue of Marie Claire, on sale now, about how – and why – she teamed up with her friend Sophia Rossi to launch Hellogiggles.com, a website where girls can go and read fun, cool and thought-provoking content, without any nastiness.
She tells us: 'Even I get slammed and overwhelmed by how negative the internet can get, and I'm an adult. I don't pay any mind to it, but it's pretty shocking how when you give people anonymity – it's like the worst of human nature.
So strongly does Zooey feel about this, that snark, gossip and swearing aren't allowed on Hellogiggles.com. She says: 'I just feel it's important to teach young girls to be strong people, to not think, I can't do this because I'm worried about what people will say.
'There are worse consequences, but online negativity stops people from being creative, part of which is having bad ideas as well as good ideas. When somebody says: "That idea's stupid", you stop your flow of ideas. We can't have the next generation be so afraid because they have been attacked."'
We couldn't have said it better ourselves. See what Zooey has to say about love, work and revenge in the November issue of Marie Claire, on sale now. Don't miss it… you'll get a free L'Occitane hand cream worth £8, too!
Zooey Deschanel for Marie Claire
Think you're having a bad day? 15 New Girl quotes that show you're not alone
Got a tablet? You can now download Marie Claire magazine straight to your iPad, Kindle (just search the store for 'marie claire magazine'), Nook or Google Nexus.
Celebrity news, beauty, fashion advice, and fascinating features, delivered straight to your inbox!