Wagner in the 'top half' of X Factor vote every week
The outlandish singer has been sailing through eliminations, according to an internet leak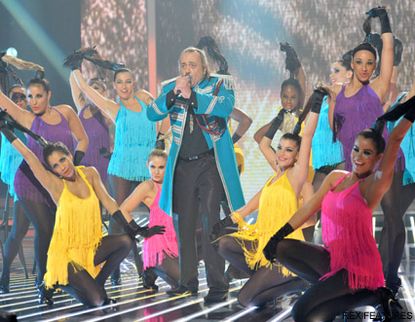 (Image credit: Rex Features)
The outlandish singer has been sailing through eliminations, according to an internet leak
It seems there could be hope for Wagner yet. Despite shocking X Factor viewers by sailing through the show's live elimination rounds week after week, the outlandish singer has actually been doing rather well, coming in the top three almost every show, according to an Internet leak.
REVEALED: CHERYL AND WAGNER'S X FACTOR SPAT
The eccentric Brazilian – who's reportedly moved out of the X Factor house after falling out with fellow contestants – was thought to have struck up a love or hate relationship with the public, after his garish medley routines.
But if reports are anything to go by, the relationship is actually more love than hate, with viewers voting in their thousands to keep him in the competition.
The singer has reportedly ended up in the 'top three' almost every week, buoyed by hundreds of fans teaming up on Facebook support groups.
Despite X Factor favourite Matt Cardle branding Wagner 'a bit of a joke' other contestants have since come out in support of the singer.
'I do feel a little bit sorry for him because people are blaming him for being in there, he doesn't vote himself in there,' recently axed contestant Paije told morning show Daybreak.
'But he is trying his best and it's his dream as much as it's mine or anyone else's.'
What are YOUR thoughts on X Factor's Wagner? Should he still be in the competition, or is it time for him to go? Let us know in the comments box below.
REVEALED: CHERYL AND WAGNER'S X FACTOR SPAT
BEHIND THE SCENES X FACTOR TWITPICS
Celebrity news, beauty, fashion advice, and fascinating features, delivered straight to your inbox!