REVEALED: Cheryl Cole and Wagner's X Factor spat
The pair are at war, after a furious on air exchange over the weekend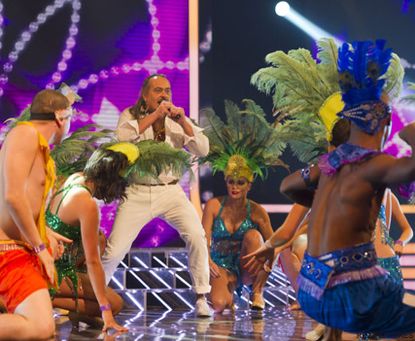 (Image credit: Rex Features)
The pair are at war, after a furious on air exchange over the weekend
Do we spy another X Factor feud in the making? It seems Cheryl Cole and controversial contestant Wagner are the latest pair to be at war, after finding themselves at the centre of a heated debate over the weekend.
SEE ALL THE LATEST X FACTOR PICS HERE!
The angry exchange took place on Saturday's show, after Cheryl was asked to comment on Wagner's performance, but instead used the opportunity to start a spat.
Mentioning comments Wagner reportedly made about her coming from a council estate, the feisty star let her sharp tongue loose on the singer.
'I don't usually have anything constructive to say to you, Wagner, but I believe you have made some comments about me.
'I am very proud of my roots and I am very, very, lucky. But if I was to give you any constructive advice it would be don't focus on everybody else or how lucky I am, but how lucky you are to be on that stage tonight.'
Ouch.
But instead of taking Cheryl's comments lying down, Wagner grabbed the microphone – much to the audience's delight – and decided to have his say.
Revealing that he 'didn't know' he was talking to a journalist when he made the comments, Wagner added: 'I said Cheryl is a role model for young people because I believe she lived in a council estate.
'So many people live in an estate and don't believe they can achieve a better standard of living. You are incredibly talented and beautiful and a princess.'
Could that be one-nil to Wagner?
It's thought the singer's comments left Cheryl fuming, while Simon let rip at the songstress for her sharp response.
'Simon has made it clear he doesn't think the judges should be attacking the contestants on the show in a personal way,' one show insider told the Mirror.
'You are supposed to comment on the performance and the singing, so he didn't like that Cheryl got 'personal.
'Things were tense after the show, Simon wasn't happy and let her know.'
What are your thoughts on Cheryl and Wagner's X Factor spat? Let us know in the comments box below.
SEE ALL THE LATEST X FACTOR PICS HERE!
Celebrity news, beauty, fashion advice, and fascinating features, delivered straight to your inbox!