Victoria Beckham: You will NEVER see me in a tracksuit or Uggs
The designer says she loves fashion too much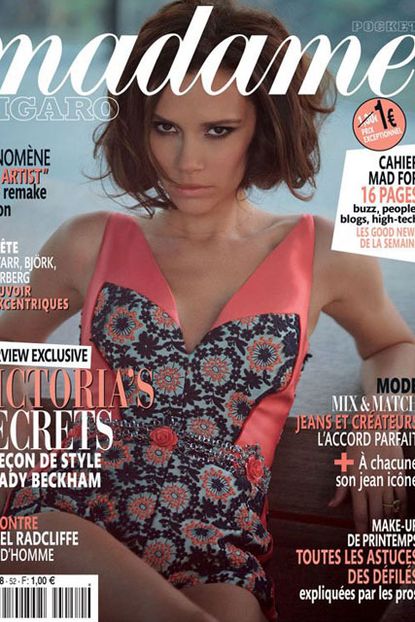 (Image credit: Madame Figaro/Greg Williams)
The designer says she loves fashion too much
It's definitely a case of style over comfort for Victoria Beckham, who has come out and said that we will never, we repeat, never, see her in a pair of tracksuit bottoms or Ugg boots.
The singer-turned-designer has told French magazine Madame Figaro that she loves fashion too darn much to let her sartorial standards slip even once.
VICTORIA BECKHAM SPRING/SUMMER 2012
She said: 'You'll never see me on the street in a tracksuit. I just love fashion too much to wear a tracksuit!
'The same goes for Ugg boots. I only wear them only at home.'
The 37-year-old is pictured on one of the two front covers of this month's edition of the magazine in a coral spring 2012 bodysuit by Prada and, on the other, in a black dress by Alexander Wang.
Speaking of her love for Prada, she said: 'I'm addicted to Prada, to cardigans and bags Hermes...
'I'd love to see the world through the eyes of Miuccia Prada! The woman is a genius. Her vision is of ultra-intelligent fashion. Each season, she creates something new, she knows how to surprise.'
PRADA AUTUMN/WINTER 2012 COLLECTION
VB also confided that her idea of heaven, once her four children and gorgeous husband have gone to bed, is to trawl online shopping sites.
'I am a big fan of Net-A-Porter.com. When the kids are asleep, I can travel on this site for several hours,' she said.
'I like the idea of quietly shopping at home for clothes and returning them if it doesn't work. This is absolute freedom.'
She sounds like a girl after our own heart - tracksuit bottoms and Uggs aside!
VICTORIA BECKHAM AUTUMN/WINTER 2012 COLLECTION
VICTORIA BECKHAM STYLE HIGHS & LOWS
Celebrity news, beauty, fashion advice, and fascinating features, delivered straight to your inbox!