The internet isn't happy with this picture of Prince George and Lupo. Mmm. Ok.
Come on, people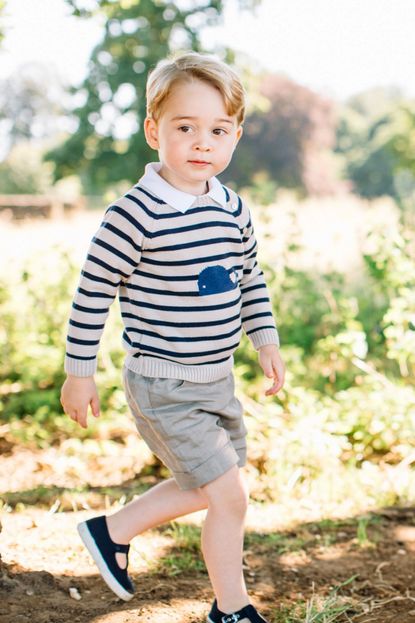 (Image credit: Matt Porteous)
Come on, people
A series of photos were released earlier this week by Kensington Palace, featuring an adorable Prince George living his best life on his third birthday.
The pictures, which feature the three-year-old royal, were taken by Matt Porteous at the royal family's country home in Norfolk and show Prince George in a stripey outfit we can totally get behind.
One of the pictures, features Prince George pretending to feed Lupo, the family's beloved cocker spaniel, a bit of ice cream. Emphasis on 'pretending'. No ice cream was actually consumed (by Lupo anyway, we're guessing Prince George snaffled it right down).
In fact, look closely at Lupo's face. He looks as if he is recoiling from said ice cream in abject horror. He does not care for the ice cream. How dare we presume a dog of such standing would be interested in such a basic dairy product? He knows dogs don't do dairy. #cleaneating
However, the Twittersphere had something to say about the seemingly innocuous picture, welcome to #IceCreamGate…
'Monarchist MONSTER! – Never give a dog Ice Cream! At worst: it'll die, At best: the dog will diarrhea everywhere!' @MyOpinionPod wrote.
'Two complaints about Prince George's official photos: you shouldn't feed dogs ice cream, and the monarchy is an archaic & undemocratic insti', tweeted @rdouglasjohnson.
However, @CCameron_ summed up what most of us are thinking: 'Wills and Kate accused of "animal cruelty" for letting Prince George feed their dog ice cream.. How ridiculous. Leave them alone.'
In response to the furore, The RSPCA told the MailOnline: 'It is lovely that Prince George is trying to help keep his family dog, Lupo, cool in these high temperatures.
'[But] we would advise people to be cautious when giving their dogs food meant for human consumption as some items, like chocolate, can be highly toxic to dogs and dairy items can be difficult for them to digest.
'Instead of ice cream we would suggest making an ice lolly from pet friendly ingredients. Making these can be really fun for children and the end product is both safe and enjoyable for dogs'
Amongst all this noise, The Palace had a very dignified statement. 'The Duke and Duchess hope that people will enjoy seeing these new photographs. They would like to thank everyone for all the lovely messages they have received as Prince George celebrates his third birthday.' Hear hear.
Celebrity news, beauty, fashion advice, and fascinating features, delivered straight to your inbox!
Holly Rains is the digital editor of Marie Claire UK. She has over 10 years journalism experience, working as an editor and writer, specialising in digital media, content strategy and dog breeds. Prior to Marie Claire, she has held senior staff positions at ELLE UK, Grazia and Company magazine.
Holly is a frequent speaker, panelist and interviewer on a range of subjects including media trends, careers and entertainment. From working with Reuters to provide global red carpet coverage for events like the BAFTAs, to discussing fashion and beauty trends on network TV, she was also the host of the Marie Claire series 'Holly's First Dates', where she regularly interviewed a mix of inspiring woman and A-list celebrities (including Jack Black, Dakota Fanning and Renée Zellweger) - a series which garnered half a million views in its first two months. And was approved by The Rock.
Her love of office-based meetings means that the days of discovering the melting point of Cadbury's Flakes are long gone, but when she isn't dreaming of scheduling in meetings, she likes to think about social media, and how best to avoid it whilst still retaining the title of 'digital' editor. She also likes learning about emerging technology, Influencers and how to become a Financially Responsible Adult.
Contact Holly: holly.rains@futurenet.com