Marie Claire is supported by its audience. When you purchase through links on our site, we may earn commission on some of the items you choose to buy.
With the news that Lindsay's heading for jail time, Sam Ronson reunites with her ex to offer her support
Proving that they've finally got over their bitter split, Sam Ronson and Lindsay Lohan have reunited in the wake of LiLo's prison sentencing.
With news that her ex is soon to be jail-bound, Sam has popped back into Lindsay's life to offer her support.
SEE MORE CELEBRITY MUG SHOTS HERE!
The DJ took the troubled actress out for dinner last night in Beverly Hills – marking the first time the pair have been seen in public together for over 9 months.
LiLo's knight in shining armour also very publicly defended her ex yesterday, after Joan Rivers posted abusive comments on Twitter.
Joan joked: 'Lindsay Lohan said she wouldn't mind being under oath, because she thought Oath was a Norwegian ski instructor.'
Which was shortly followed by: 'Lindsay Lohan is so dumb. Her idea of being sworn is cursing at the judge.'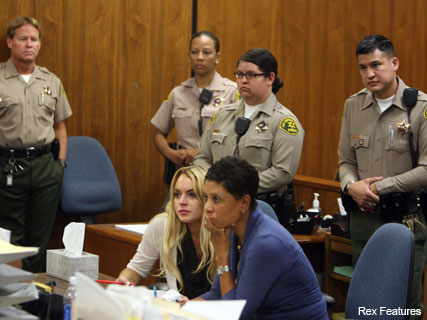 An angry Sam then Tweeted back: 'Hey Joan Rivers, you have collagen older than Lindsay – pick on someone your own age, oh wait, I guess people that old can't hear.'
Lindsay then jumped in, to thank her ex via Twitter, saying: '@samantharonson thank you : ) I love yams x'
Yams? We're not sure if that's her nickname for Sam, or if she's referring to the sweet potato… But either way, we've got a sneaky suspicion that we're going to see more Lohan-Ronson reunions in the very near future.
(Well, 90-day jail sentence excluded, obviously.)
SEE MORE CELEBRITY MUG SHOTS HERE!