Marie Claire is supported by its audience. When you purchase through links on our site, we may earn commission on some of the items you choose to buy.
The star will be swapping designer dresses for a flattering jail jumpsuit when she completes her time behind bars
Troubled star Lindsay Lohan will soon be swapping her designer dresses for a less than flattering jail jumpsuit, as she gets set to serve her term behind bars.
SEE LINDSAY'S POLICE MUGSHOT HERE!
The Mean Girls party animal has been sentenced to 90 days in prison for alcohol offences and breaching the terms of her parole, but experts suggest she could serve just 2 weeks of the sentence.
Lindsay will almost certainly have to don the less-than-flattering regulation prison jumpsuit, before being finger printed and assigned a cell alongside other inmates.
And it certainly won't be a glam existence!
Inmates at the Century Regional Detention Facility in California – where American Magazine People reports Lindsay will be serving her jail term – are woken at 5am and spend 22 hours a day in their cell, with just 20 minutes for meals, and one hour of recreational time.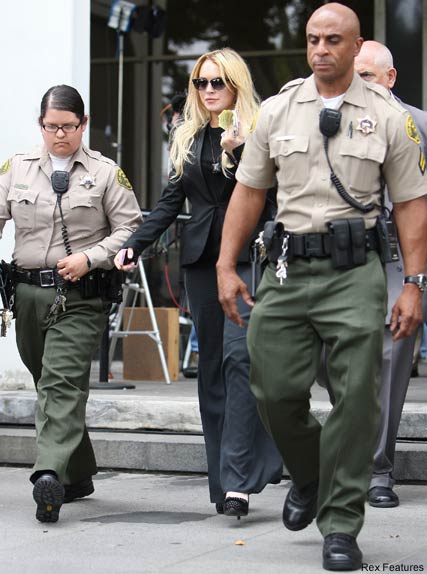 Paris Hilton served a 23-day sentence at the very same prison back in 2007, and said of the experience: 'All of the inmates were very supportive. There were girls next to me. We could talk through the vents and they were just really sweet.'
Maybe it won't be so bad, after all.
Are you pleased Lindsay Lohan will be spending time behind bars? Or do you think the judge has been too harsh on the star? Let us know your thoughts in the comments box below.