Kristen Stewart's stylist: I have to beg her to wear heels
Tara Swennen talks about Kristen's habit of changing into trainers on the red carpet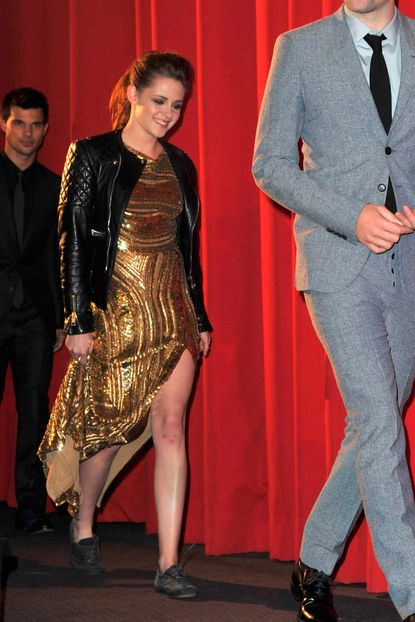 (Image credit: Rex Features)
Tara Swennen talks about Kristen's habit of changing into trainers on the red carpet
Kristen Stewart's style for the Twilight Breaking Dawn Part 2 premieres was immaculate and the woman entirely responsible is the star's stylist Tara Swennen.
Swennen has worked with the actress since 2007 and it sounds like she has an uphill struggle on her hands when it comes to Kristen's willingness to play dress-up.
She's been talking about just how much she has to beg Kristen to wear high heels on the red carpet.
In an interview with The Cut, Tara said: 'She'll always change into her Converse by halfway through a carpet, which is to be expected at this point, but she puts on the heels for me for the photos, God bless her. At the end of the day, I want my clients to be comfortable because I think it shows. She needs to put on her sneakers and that's alright with me.'
She continued: 'I clearly prefer a heel. I just think it photographs better. Regardless of it being any type of heel, I think it elongates the silhouette, which obviously you always wanna do, make them look taller and have that longer look. But it's part of her personality; I think it's fun when she does it. There are definitely times when I have to say, "Please, please, please put the heel on just for me."'
TWILIGHT BREAKING DAWN PARTY PICTURES
The stylist also admitted that sometimes she even has to beg Kristen, 22, to try on some of the beautiful couture pieces she gets sent.
'I'm able to get such beautiful pieces for her. There are certain silhouettes she still just gravitates toward and others that, like with any client, you have to push a little bit to take them out of their comfort zone. But she's willing to try it on just for me, just so I can say, "Listen, this is like Christmas for me when these amazing couture pieces show up in these boxes; you have to try it on so I can see it in the flesh, and then you can take it off."
'But when she does that, every once in a while, she actually sees something that she hasn't seen before and likes it, and all of a sudden we have something new that she wants to wear, which is super-exciting, so luckily for me, she likes to appease my begging.'
There's one area of style, however, that Tara won't even bother trying to get Kristen to experiment with. She said: 'Her jewellery is jewellery that tends to stay on her only because it has sentimental value to her, whether it's from friends or family.
KRISTEN STEWART DITCHES ZUHAIR MURAD JUMPSUIT AT TWILIGHT PREMIERE
'There was one bracelet [by Iwona Ludyga] that I gave her at the beginning of the (Breaking Dawn Part 2) tour, and she's been wearing it a lot, it's a red triangle. But it's really a fluke with jewellery. I don't even pull it at this point because I know that she's gonna wear her personal stuff.'
But being a stylist to Kristen isn't as tough as it sounds, as Tara points out, Kristen is willing to push the boundaries when it comes to fashion, as her recent foray into Zuhair Murad's couture collection demonstrated.
'I love that she's getting more and more glamorous every time. One of the things that I love about her is that she is willing to take a risk. As a stylist, that is one of the best things you can ask for. She's not afraid of prints and sheerness and textures, so I just hope we can to continue to do fun things.
'[My only goal] would be to get some accessories on her. We'll see where she goes from here.'
What do you think of Kristen Stewart's style? Do you find it funny that she changes into trainers on the red carpet? Let us know your thoughts in the comment box below.
Watch our exclusive interview with Kristen Stewart below:
IN PICTURES: BREAKING DAWN PART 2 PREMIERES
Celebrity news, beauty, fashion advice, and fascinating features, delivered straight to your inbox!