Kate Winslet to strip for Playboy?
Hugh Hefner wants Winslet for Playboy cover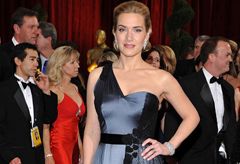 (Image credit: Rex Features)
Hugh Hefner wants Winslet for Playboy cover
Kate Winslet is in high demand at the moment, she's won a Golden Globe, a BAFTA, an Oscar and now Hugh Hefner wants her to strip off for Playboy.
The magazine mogul said: 'There's no question we would be interested in Kate. It's a competitive market, more than it used to be, so she would be a most welcome addition in our pages.'
But it seems Hef is out of luck; in a recent interview with Time magazine, Kate vowed that she never wants to get naked on camera again.
She said: 'I think I won't do it again: a) I can't keep getting away with it, and b) I don't want to become 'that actress who always gets her kit off.''
Meanwhile, The Reader actress revealed that her eight-year-old daughter, Mia, wasn't impressed with her custom-made Yves Saint Laurent Oscar gown because of its dull hue.
'I said, "Hi, Mia, did you jump up and down?" [Mia] says: "Yes, I did, Mum, I did. I need to talk to you about the dress - it was grey." She was absolutely mortified I wore a grey dress.'
Speaking on The Oprah Winfrey Show, she explained her decision behind the dress, saying: 'I think in this time in the economy, it's just not nice to have people make lots of dresses and you just wear one out of a possible five.'
'So Yves St Laurent very kindly said, "We'd like to make something for you," and that was what we did.'
Well Kate, we loved it even if Mia didn't!
CLICK HERE FOR THE RED CARPET OSCARS PHOTOS
SEE THE 10 BEST OSCAR 2009 STYLE DISASTERS
SEE THE 10 BEST 2009 OSCAR DRESSES
Celebrity news, beauty, fashion advice, and fascinating features, delivered straight to your inbox!