Jennifer Lawrence: 'acting is stupid'
Hollywood beauty compares herself to fireman and doctors, saying 'I just make movies'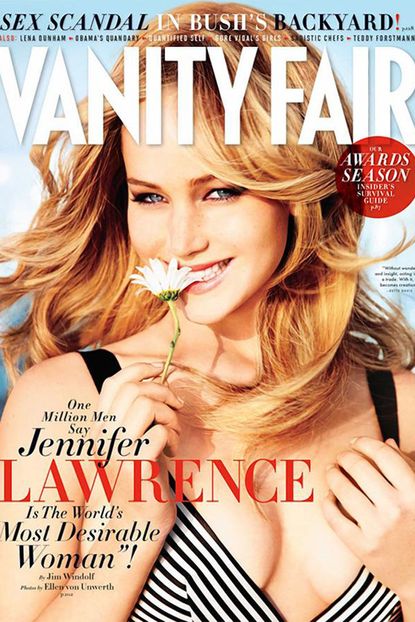 (Image credit: Vanity Fair)
Hollywood beauty compares herself to fireman and doctors, saying 'I just make movies'
While there are certain actors who think the world of themselves (regardless of what the world thinks about them), Jennifer Lawrence has spoken honestly about her career choice, saying she thinks 'acting is stupid.'
'Everybody's like, 'How can you remain with a level head?' And I'm like, 'Why would I ever get cocky?" The Hunger Games star asks in the February issue of Vanity Fair.
JENNIFER LAWRENCE & ANNE HATHAWAY NOMINATED FOR GOLDEN GLOBE 2013 GONGS
'I'm not saving anybody's life. There are doctors who save lives and firemen who run into burning buildings. I'm making movies. It's stupid,' admits the 22-year-old.
Jennifer Lawrence, who was scouted as a 14-year-old tourist by a model scout in Manhattan's Union Square, also reveals that while the cash that's come with her fame is great, there's a price to be paid.
'I call my mom sobbing all the time … dealing with the repercussions of having no more anonymity. You lose privacy,' she says.
Adding: 'As much as this is a curse, as stupid as it sounds, to make as much money as I am by doing something that I love, it's hard not to regret it when you're being chased by 15 strangers.'
Despite being recently nominated for a prestigious Golden Globe award in the Best Actress in Comedy or Musical category for her role in Silver Linings Playbook, Jennifer says she's still star-struck by her contemporaries.
'One time someone was introducing me to Bill Maher, and I saw Meryl Streep walk into the room, and I literally put my hand right in Bill Maher's face and said, 'Not now, Bill!,' and I just stared at Meryl Streep, I just creepily stared at her.'
JENNIFER LAWRENCE VOTED 'WORLDS MOST DESIRABLE WOMAN'
WATCH: Jennifer Lawrence at the Silver Linings Playbook premiere here...
What do you make of Jennifer Lawrence's latest statement? Let us know in the comments box below...
Celebrity news, beauty, fashion advice, and fascinating features, delivered straight to your inbox!