Girl Aloud Sarah Harding brands lip fillers 'a mistake'
The blonde beauty revealed she suffered an allergic reaction to the cosmetic injections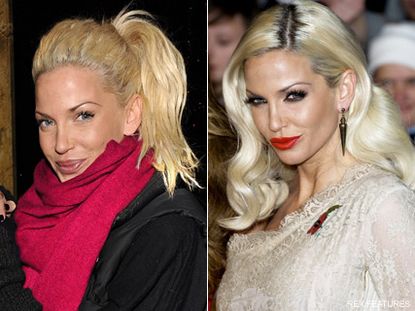 (Image credit: Rex Features)
The blonde beauty revealed she suffered an allergic reaction to the cosmetic injections
We couldn't help but notice something slightly different about Girl Aloud Sarah Harding when she stepped out with noticeably larger lips last year. Now the star has opened up on dabbling with cosmetic enhancements, branding the lip fillers 'a mistake'.
SEE MORE GIRLS ALOUD PICTURES HERE!
In an interview with Fabulous magazine, the blonde beauty revealed she indulged in the lip filling treatment ahead of her 30th birthday, but had a bad reaction to the injections.
And for now she's said she'll be staying away from any more surgical enhancements.
Lip fillers: Everything you need to know
'It's not something I'm going to be trying again, or anything I would recommend to anyone else,' Sarah revealed to the magazine when quizzed about her plump pout.
'But, yeah, around Christmas I got a little bit experimental and decided to have some filler in my lips. Clearly that was a mistake.'
'I was silly, it was a very silly thing to do,' she added, speaking of the treatment, which caused her lips to swell after she suffered an allergic reaction. 'Thankfully they have gone back down now.'
Explaining her reasons for having the lip injections, the blonde beauty – who got engaged to DJ boyfriend Tom Crane earlier in January - revealed she was worried about approaching her 30s.
'It was a case of approaching my 30s and not feeling confident about that.'
'It was something that was on my mind a lot.'
What are your thoughts on Sarah's cosmetic enhancement experience? Would you ever have lip fillers? Let us know in the comments box below.
SEE MORE GIRLS ALOUD PICTURES HERE!
Celebrity news, beauty, fashion advice, and fascinating features, delivered straight to your inbox!