'Why is talking about the signs of menopause still TMI?'
Beauty giant Avon is calling a time out on menopause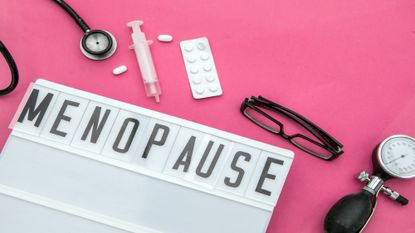 Beauty giant Avon is calling a time out on menopause
This natural subject is often seen as TMI and taboo, when the fact is every single woman in the world will go through menopause.
Avon is rewording this to TLI (Too Little Information) and want to start a new open conversation to normalise talking about this natural bodily change and give women access to the knowledge needed. We all know the basic symptoms and signs of menopause; periods stop, hot flushes begin, but there is so much more to it than that.
Dr Sarah Jarvis, UK GP with a special interest in women's health says, 'The hormonal shifts can have a major impact on mood and how we feel about ourselves. They can disrupt sleep and concentration and affect your weight, skin, hair and energy levels. This can be confusing and worrying for women, so knowing what's happening is the first step in managing those symptoms and navigating this natural process with lessened impact.'
The brand has released new statistics as part of a menopause study, after speaking to hundreds of women across the globe.
These were their key findings...
51% of UK women were unaware of perimenopause until they started to have symptoms.
Despite menopause often following maternal patterns, only 15% of UK women would discuss the matter with their mother
41% of UK women rely on unsubstantiated online resources above GPs, gynaecologists, and friends
47% of UK women did not feel prepared for either perimenopause or the menopause when it started
42% did not expect perimenopause when it began to occur – which might explain why 30% felt anxious during it
The facts don't lie and in our culture of social sharing, where we post about our breakfasts, holiday snaps and latest beauty buys, there should be no shame in speaking up about the experience of menopause… it's time to over share.
Gina Ghura, Head of Future Innovation at Avon says 'We undertook this global menopause study to better understand women's experiences at this time in their lives. By looking at the physical changes shared by so many, we knew we could support women through our product innovation and develop something that would be both functional and enjoyable to use. The beauty of Avon is that through our global community of five million Reps, we can also support women's emotional experiences by opening up conversations.'
With Avon's research showing that 69% of women had issues with dry or sensitive skin during menopause, the brand has developed a new range of skincare products that work to support the hormonal effects on skin during menopause.
'We've spent years in laboratories researching the impact of hormones on our skin, and when looking specifically at the impact of menopause and perimenopause, we released it was a massively under discussed topic,' says Ghura. 'Women didn't realise why their skin was changing or how to manage those fluctuations.'
Avon's answer is to launch this new line later this year... So be sure to watch this space!
Celebrity news, beauty, fashion advice, and fascinating features, delivered straight to your inbox!
Sarah Barnes is Junior Beauty Writer and Production Assistant at Marie Claire UK.
After attending a military school growing up (we are talking camo print, crawling through the mud) Sarah craved a creative outlook with fashion and beauty always being a huge draw. With a degree in Fashion Journalism from The University For The Creative Arts, Sarah was introduced into the world of beauty, health and print after publishing her own university magazine, which was an investigative project into the world of Paleo and Primal Wellbeing. Her love for production came after moving to Vancouver Canada, working on the sets for Toyota commercials as a production assistant.
Four years later, she is now Marie Claire UK's Junior Beauty Writer and Production Assistant. Combining both her love for writing and production, having worked her way up from intern. With each day being different Sarah can be found writing beauty features, reporting backstage at Fashion Week on the latest beauty trends and working on Marie Claire's various beauty awards and video content. Always on her face beauty wise; Urban Decays 24/7 Eyeliner in Roach, Elemis Daily Defence Shield SPF 30 and Estee Lauders Radiant Double Wear Concealer.
Sarah's job also allows her to travel the world for Marie Claire's beauty shoots, working on the shoot production and assisting with booking the best models and photographers. Highlights include shooting at sunset in the Lanzarote desert, from a speedboat in Mauritius and along the wild beaches of Sri Lanka- maybe that army training was useful after all?