If you'd like to smell completely f***ing glorious this summer, please apply within
Make way for the scent of the summer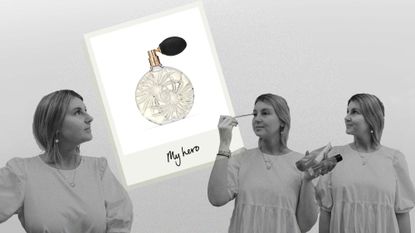 Make way for the scent of the summer
There was a time, long ago, when I wished to be a one-scented woman. I dreamt of walking along a corridor, leaving a trail of my signature fragrance behind me that would be picked up by someone and they would exclaim, 'Oh Katie was here not long ago.'
But alas, this never happened. At current count, I am a 27-scented woman. Turns out, I am a perfume whore. Which isn't exactly what I was going for. The trouble is I just fall in love with the best perfume for women so easily. I let them flirt with me, I allow them to lull me into feeling of determined longing and then whoops, I've just added another notch to my metaphorical-fragrance bedpost.
And so I find myself infatuated on a regular basis. This week's squeeze is Diptyque's Essences Insensées 2019 scent, Tiaré Flower.
I know what you're all thinking, 'come on, it's ridiculously easy to fall in love with a Diptyque fragrance. Anyone would.' And you would be right. It is. I already have two in my 27-strong collection. But this one, as so many have in the past, has sucked me in.
Diptyque's Essences Insensées scents are really quite magical. Each year they closely observe their floral crops and dependent on weather and soil, one in particular will have a stellar year. (Think of this flower as the prefect of the botany world.) Diptyque then bottles this special flower as a limited edition summer fragrance.
This year's prefect is the Tiaré Flower - the national flower of Tahiti. It's a white flower, which I'm afraid to admit is my kryptonite when it comes to fragrances. I get one whiff and I'm weak at the knees.
It's been brewed alongside frangipani, vanilla and pink peppercorn and the results are magnificent. At first spray, I won't lie I thought it smelt medicinal, but as soon as it dried down onto the skin I was hooked. The scent is rich and velvety, whilst simultaneously managing to be super fresh and green. It reminds me of the smell of warm bodies at around 8pm on a beach holiday. Does that make sense? No? Well then you'll just have to buy it yourself.
Also, can we take a moment to appreciate how smart this bottle is?! Even if you hated the juice (which would be an impossibility) you would happily display this beautiful piece of cut glass in your home. Maybe it has something to do with the squeeze bulb? Whenever I use one, I instantly feel like one of those fabulous characters straight out of a Poirot novel.
I urge you to go out and buy it, for it truly is one of the best summer perfumes. I plan on wearing it everyday and smelling divine until the end of the season. (Well until another fragrance comes along and catches me under its spell. Which should be in about four hours.)
Don't hate me for the price. Hate me for the fact that you'll want to purchase two.
Celebrity news, beauty, fashion advice, and fascinating features, delivered straight to your inbox!
Katie Thomas is the Senior Beauty Editor at Marie Claire UK. With over 10 years of experience on women's luxury lifestyle titles, she covers everything from the best beauty looks from the red carpet and stand out trends from the catwalk, to colonic irrigation and to the best mascaras on the market. She started her career on fashion desks across the industry - from The Telegraph to Brides - but found her calling in the Tatler beauty department. From there she moved to Instyle, before joining the Marie Claire digital team in 2018. She's made it her own personal mission to find the best concealer in the world to cover her tenacious dark circles. She's obsessed with skincare that makes her skin bouncy and glowy, low-maintenance hair that doesn't require brushing and a cracking good manicure. Oh and she wears more jewellery than the Queen.