Aung San Suu Kyi to stand for election in Burma
Burma's pro-democracy leader has announced she will stand for election to parliament as her party rejoined the political arena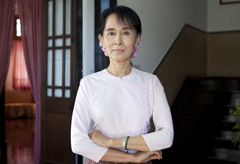 (Image credit: REX)
Burma's pro-democracy leader has announced she will stand for election to parliament as her party rejoined the political arena
Burma's pro-democracy leader Aung San Suu Kyi and her National League for Democracy (NLD) have today announced that the party will register to take part in elections.
The decision signals the party's confidence in recent political reforms by the miliatry-backed civilian-led government after it boycotted polls in November 2010 because of election laws that banned former political prisoner Ms Suu Kyi from running.
'We unanimously decide that the National League for Democracy will register according to party registration laws, and we will take part in the coming by-elections,' says a party statement.
The NLD won elections in 1990 but were never allowed to take power. Ms Suu Kyi spent years under house arrest but was freed last year by the new government.
Meanwhile, President Barack Obama has said he will send the secretary of state, Hillary Clinton, to Burmaamid the new flickers of hope for democracy among the nation.
'Last night I spoke to Aung San Suu Kyi directly and confirmed she supports American engagement to move this process forward,' says Mr Obama.
'If Burma fails to move down the path ofreform it will continue to face sanctions and isolation,' he says.
Celebrity news, beauty, fashion advice, and fascinating features, delivered straight to your inbox!