Norwegian gunman goes on trial
The Norwegian gunman responsible for committing the double terror attacks on Friday is due to make his first appearance in court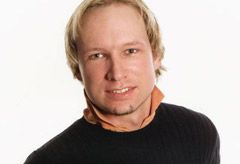 (Image credit: Rex Features)
The Norwegian gunman responsible for committing the double terror attacks on Friday is due to make his first appearance in court
Anders Behring Breivik, the Norwegian gunman responsible for carrying out the atrocities on Friday, is due to make his initial appearance in court today.
Breivik has already admitted to committing the double terror attacks, first a bombing in the capital, Oslo, and then the mass shooting on an island youth camp. He is yet to accept criminal responsibility for them.
He is responsible for killing almost 100 people in the worst day of violence Norway has seen in peaceful times.
Breivik, 32, is expected to appear in court an hour after a minute's silence has been observed in Norway to remember those who were killed.
There have already been calls for a media blackout so that Breivik is not given the publicity to voice his extremist views.
Breivik's lawyer, Geir Lippestad, revealed yesterday to the Norwegian media: 'He [Breivik] thought it was gruesome having to commit these acts, but in his head, they were necessary.'
Since the attacks, images have been found online of far- right Breivik wearing a wetsuit and carrying an automatic weapon.
A 1,500-page document has also been discovered, which was put online hours before the attacks began. The manifesto reveals how he meticulously and callously planned the attacks for over eight years.
Now known to hold extremist views against immigration and multiculturalism, Breivik targeted buildings in Oslo connected to Norway's governing Labour Party, as well as the youth camp on Utoeya island, which was also run by the party.
Today, with four people still missing, searches continue in the water surrounding the island, with the thought that they could have drowned trying to escape the hail of bullets.
Even as Breivik starts his trial today, police say they have not ruled out more people being involved in the terror attacks after eyewitness reports suggested a possible second shooter.
Celebrity news, beauty, fashion advice, and fascinating features, delivered straight to your inbox!
Natalia is a health journalist with 14 years experience in the publishing industry. She has worked for a number of well known magazines and websites including Marie Claire, Woman&Home, Top Sante, Boots and The Telegraph. She likes to think she practices what she preaches when it comes to health and fitness. Her athletic prowess began early. A keen fencer for 13 years, she wielded an epée for Olympic Team GB during her teenage years. She likes to think she made sword-fighting cool before Game of Thrones came along! While working on her sporting performance with the team, she also participated in a lot of nutrition and psychology training, When it comes to time off, you'll most likely find her up a mountain somewhere. It seems holidays have become a time for climbing several thousand feet, rather than chilling out. She's now hiked eight of the major mountain ranges across four continents – including the Appalachians, the Smokies, the Sierra Nevadas (she spent her honeymoon hiking to the top of Half Dome), as well as hitting the summits of Snowdon, Pen-Y-Fan (Brecon Beacons), Table Mountain in South Africa, the Blue Mountains in Australia and the Atlas Mountains in Morocco. She's also passionate about all things health, particularly vaccinations, and will happily jump on her soap box at any given opportunity to talk about their benefits to anyone who will listen!