And Then There Were None… & 9 Other Murder Mysteries We Love
Love a whodunnit? Try these…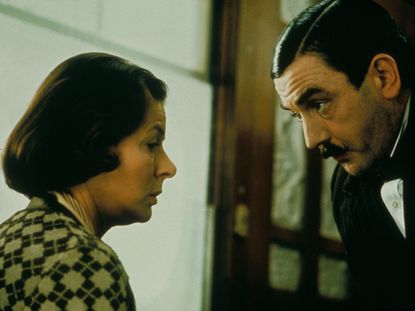 Love a whodunnit? Try these…
Who did it? It's the quintessential question asked in any good murder mystery. No one loves whodunits more than us here at Marie Claire HQ and in honour of the BBC's latest adaptation of Agatha Christie's classic 1939 classic, And Then There Were None, we've decided to round up the best whodunits around.
So, pick up your magnifying glass and your notepad, and join us as we look through the 10 best murder mysteries in film and TV…
Murder On The Orient Express (1974)
'Only by interrogating the other passengers could I hope to see the light, but when I began to question them, the light, as Macbeth would have said, thickened.' In a global poll of Agatha Christie's most popular novels, Murder On The Orient Express nearly topped the chart at number two and it's easy to see why. Christie gave this long-distance passenger train a touch of exotic glamour with this tantalising murder mystery, starring popular Belgian detective Hercule Poirot and a train full of suspects. It's enough to make you want to pull out your notepad and get deducing.
Though the 1974 version is the most popular – with James Bond's Sean Connery, Vanessa Redgrave and Psycho's Anthony Perkins under suspicion, the story continues to resonate with audiences. In fact, another adaptation is currently in the works, to be directed by Cinderella director and actor Kenneth Branagh. Death On The Nile (1978)
'Simon was mine and he loved me, then she came along and... sometimes, I just want to put this gun right against her head, and ever so gently, pull the trigger. When I hear that sound more and more...' A personal favourite of ours, this is another Agatha Christie adaptation that perfectly captures the tension and thrills of a whodunit. Set in the humid desert heat of Egypt, the film guides us through post-colonial Africa as a group of glamourous characters embark on a cruise down the Nile. When a tragic murder takes place during the trip, however, Hercule Poirot once again must figure out who is behind the deaths. Starring Mia Farrow, Maggie Smith, Angela Lansbury and a slew of other major stars, the film wasn't as popular as previous hit Murder On The Orient Express, but it'll always have a special place in our hearts... Clue (1985)
'They all did it. But if you wanna know who killed Mr. Boddy, I did. In the hall. With the revolver. Okay, Chief, take 'em away. I'm gonna go home and sleep with my wife.'
Based on the popular Hasbro game of the same name – Cluedo in the UK – this comedic take on the whodunit features all the genre's tropes: a host of shady characters, a dark dreary mansion and a motive for every character. If you're a fan of the board game and enjoy a light-hearted affair, see Clue. But if you're after a weightier murder mystery, you may want to give this one a miss. Twin Peaks (1990 – 1991)
'Harry, I'm going to let you in on a little secret. Every day, once a day, give yourself a present. Don't plan it. Don't wait for it. Just let it happen. It could be a new shirt at the men's store, a catnap in your office chair, or two cups of good, hot black coffee.' It was the US cult phenomenon of the 90s: Twin Peaks' weird and wonderful world was a hit when first released and viewers tuned in week after week to find out who killed homecoming queen Laura Palmer. Though the second season never lived up to the mystery and intrigue of the first, we'll always remember the series as the pre-curser to Broadchurch, showing us that small, suburban towns can be secretive and scary places.
Broadchurch (2013 – present)
'Small town, everyone's eyes on ya. Don't like it.'
Speaking of Broadchurch... Back in 2013 we were glued to our screens as we watched David Tennant and Olivia Colman uncover who murdered 11-year-old Danny Latimer. The series quickly became a phenomenon, as office discussions about the likely suspects became a national pastime, and turned unsuspecting viewers into amateur sleuths. When the killer was revealed at the end of Series 1 nearly 9.3 million viewers tuned in, making it ITV's highest-rated drama series in 2004. Agatha Christie's Poirot (1989 – 2013)
'Monsieurs, Madames. What I am about to do might surprise you a little. You'll probably think of me as eccentric-perhaps mad. You might say, "the little Belgian is taking leave from his rocker", huh? But I must assure you, that behind my madness is, what you English say... method.' Considered the most honest portrayal of Hercule Poirot on-screen, David Suchet's interpretation of the famous Belgian detective has become inseparable with Agatha Christie's literary creation. With the series lasting an astonishing 13 seasons, David was able to conclude the franchise in 2013 having adapted every Christie story featuring the famed detective. Now that's impressive.
Murder By Death (1976)
'Another diversion. He gives us meaningless clues to confuse us, dangles red herrings before our eyes, bedazzles us with bizarre banalities, while all the time precious seconds are ticking away towards a truly terrible murder still to come.'
Like Clue, this parody of a classic whodunit takes a more comedic approach than the original material. The film stars a whos-who of classic actors - including Maggie Smith and David Niven - portraying some of fiction's most famous sleuths. A spoof of Agatha's classic And Then There Were None, the detectives must band together to figure out who is killing them off one-by-one. Truman Capote even drops by in a rare acting role.
Veronica Mars (2004 – 2007)
'Tragedy blows through your life like a tornado, uprooting everything. Creating chaos. You wait for the dust to settle and then you choose. You can live in the wreckage and pretend it's still the mansion you remember. Or you can crawl from the rubble and slowly rebuild.' A neo-noir take on a murder mystery, Veronica Mars blew audiences out of the water in 2004 when it premiered in America. Telling the story of high school student turned private investigator, the series follows Veronica as she tries to piece together who murdered her best friend Lilly Kane, played by Amanda Seyfried. Watch this series if you like badass female heroines and dry humour. Sherlock (2010- present)
'It's murder, all of them. I don't know how. And they're not suicides, they're killings, serial killings! We got ourselves a serial killer. Love those. There's always something to look forward to.'
The TV show that introduced us to the wonder that is Benedict Cumberbatch. But wait: the series is also a great modern adaptation of a traditional super-sleuth tale. With thrilling scenes of confounding stories, early episodes drew viewers into the modern day world of Sherlock. Benedict's spot-on delivery and chemistry with Watson made the novels relevant to modern day audiences once again. And Then There Were None (2015) Airing on Boxing Day 2015, ten strangers are invited to Soldier Island - an isolated rock near the Devon coast. Cut off from the mainland, with their hosts mysteriously absent, the strangers are each accused of a terrible crime. One by one, the party members are found dead. Is there a murderer in their midst?
Voted the best Agatha Christie novel in a global poll - marking Agatha's 125th birthday - this BBC adaptation boasts an all-star cast including hottie Douglas Booth, Jurassic Park veteran Sam Neil and Poldark himself, Aidan Turner. We can't WAIT.
Source: BBC via Pinterest.com
Celebrity news, beauty, fashion advice, and fascinating features, delivered straight to your inbox!
The leading destination for fashion, beauty, shopping and finger-on-the-pulse views on the latest issues. Marie Claire's travel content helps you delight in discovering new destinations around the globe, offering a unique – and sometimes unchartered – travel experience. From new hotel openings to the destinations tipped to take over our travel calendars, this iconic name has it covered.