A new theatre production that actually wants you to fall asleep
Theatre company stages an all-night sleepover in a new show called Lullaby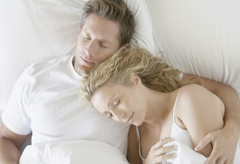 (Image credit: Rex Features)
Theatre company stages an all-night sleepover in a new show called Lullaby
Snoozing in the stalls has often been frowned upon, but theatre company Duckie is to stage a new venture that encorages the audience to fall asleep during the production.
The show, Lullaby, will involve an all-night sleepover where ticket holders will arrive in full bedtime attire and clamber in to their choice of single, double or triple beds for 90 minutes of soothing lullabies and storytelling. The audience will be woken 8 hours later in time for breakfast.
The producer of Lullaby, Simon Casson said: 'Everytime I go to the theatre I fall asleep, so I thought why don't we embrace that idea and make a show that deliberately sends people to sleep.'
The Barbican Pit Theatre will be transformed in to a bedroom with beds and separate bathrooms for ladies and gentlemen to brush their teeth before the production commences.
Mr. Casson added: 'It will reassure the audience, comfort the audience and be very, very cosy.'
Organisers claim that at £42 a ticket, the evening at the Barbican Pit Theatre is cheaper than most budget hotels in central London.
The company, who describe themselves as 'purveyors of progressive working-class entertainment', won an Olivier Award for best entertainment six years ago for it's edgy cabaret show, C'est Duckie, at the Barbican.
Tickets for Lullaby will go on sale in November and the production is due to run from 24th June to 24th July 2011.
Celebrity news, beauty, fashion advice, and fascinating features, delivered straight to your inbox!