Meet our 2011 mentors
They've got amazing jobs, brilliant careers...and they could be YOUR mentor. Meet the 25 fabulous women behind our 2011 Inspire & Mentor campaign and start on your path to career success today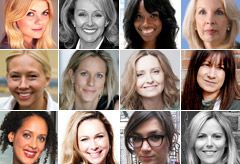 They've got amazing jobs, brilliant careers...and they could be YOUR mentor. Meet the 25 fabulous women behind our 2011 Inspire & Mentor campaign and start on your path to career success today
They've got amazing jobs, brilliant careers...and they could be YOUR mentor. Meet the 25 fabulous women behind our 2011 Inspire & Mentor campaign and start on your path to career success, today!
Last year, hundreds of women from across the country were mentored or attended our 'How To...' events and the response we had a phenomenal response (read some of our success stories, here).
So for 2011 we're going bigger and better than ever.
Editor in Chief, Trish Halpin, explains: 'We've recruited incredible women from the worlds of fashion, beauty, media, business and the arts to mentor Marie Claire readers.'
Whether it's giving your business a boost, or getting an idea off the ground, we've brought together the best business brains in the UK - and they're waiting to hear from you.
Find your Marie Claire mentor below and join the campaign!
The Beauty Power Pairing...Ruby Hammer and Millie Kendall
The Best-Selling Author...Jane Fallon
The Interiors Guru...Lisa Stickley
The Model-Turned-Cupcake-Queen...Lorraine Pascale
The Beauty Guru...Nicky Kinnaird
The Entrepreneur...Sahar Hashemi
The Celebrity Make-Up Artist...Mary Greenwell
The Fashion E-tailer...Sarah Curran
The Journalist...Andrea Thompson
The TV Exec...Sophie Turner Laing
The Lifestyle E-tailer...Holly Tucker
The Fertility Guru...Zita West
The City Slicker-Turned-Designer...Britt Lintner
The Real-Life Success Story...Carolann Carlile
The Success Coach...Sharron Lowe
The Lingerie Queen...Charlotte Semler
The Lifestyle Entrepreneur...Christina Strutt
The Nail-Bar Phenomenon...Thea Green
The Make-Up Guru...Jemma Kidd
The Music Tour Manager...Storme Whitby Grubb
The Homewares Designer...Ella Doran
The Culturist...Amanda Nevil
The Online Jeweller...Bec Clarke
The Celebrity Publicist...Liz Matthews
The Best-Selling Novelist...Tasmina Perry
WANT TO BE MENTORED? CLICK HERE
Celebrity news, beauty, fashion advice, and fascinating features, delivered straight to your inbox!