13 ways you can use your LinkedIn profile to get your dream job
We've sussed the tricks for using the professional networking site LinkedIn to its full job hunting potential. Take a look...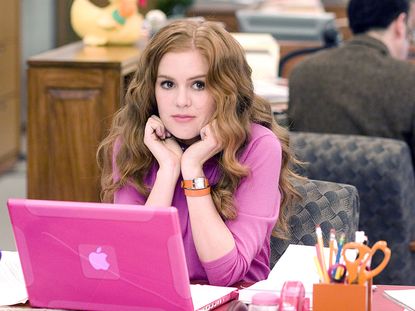 (Image credit: Rex Features)
We've sussed the tricks for using the professional networking site LinkedIn to its full job hunting potential. Take a look...
Looking to make a move professionally-speaking? Then bookmark this page and follow our 10 easy tips to see how LinkedIn can get you the job you really want.
1. Treat it like more than a paper CV
Last year, the words 'responsible', followed by 'strategic' and 'effective' topped LinkedIn's annual list of most overused words in UK members' profiles. Remember that your LinkedIn profile can do much more than a paper CV, so avoid the clichés and get creative.
Instead of just using generic words, you can now improve the quality of your professional credentials using LinkedIn's dynamic extra features,' explains LinkedIn Communications Manager Darain Faraz. 'For example, you can add previous work, videos or presentations to your LinkedIn profile that demonstrate your work capacity. And it's far more powerful than just saying it.'
You can now also re-arrange your profile layout to suit you and your skills which is a handy little update. If you want to do it, enter edit mode and simply hover your mouse over the double-sided arro in each section. Your mouse will turn into a four-arrowed icon at which point you can click, then drag and drop the section to another position on your profile. Easy.
2. Make it easy for them to find you
Recruiters use straightforward keyword searching on LinkedIn to find their clients the right individuals, in the right industries, seeking the right jobs, so make it really easy for them to find you.
Darain says, 'Right from the start, your LinkedIn headline can give you the opportunity not only to sum up who you are but also what you want, making it more likely you'll be found through searches. You need to think about how someone is likely to come across your profile – consider what recruiters are likely to search, and fit this into your profile headline.'
3. Start as you mean to go on
LinkedIn profiles have sections for a reason. You wouldn't deliver a clipped answer in an interview when you thought you'd had enough, so why stop short of a full profile?
'Completed profiles are seven times more likely to be viewed, and eleven times more likely when they include a photo. You can even improve your profile by up to 12 times, just by adding more than one previous position, no matter how relevant you think it is.'
4. Hand pick the right skills
Be specific about the skills you have that make you good at your job. Your connections can now endorse these skills (proving to a reader that you are trustworthy) and previous employers can also reference them in recommendations that they give on your profile (reinforcing your suitability for, and deservedness of, a role).
'Seventy six of the FTSE 100 use LinkedIn's Talent Solutions teams to find top individuals. If you don't include the skills you have on your personal résumé, then you might fail to show up in a search, when other professionals are looking for an expert just like you.'
5. Follow your dream companies
Pursuing a dream profession and starting from scratch is a daunting prospect, especially when you have a lot to learn, but LinkedIn is a hub of business information that you could be using to your advantage.
'There are over three million Company Pages on LinkedIn, so follow the ones you want to do business with,' suggests Darain. 'You'll get updates when people leave or join the company and you'll also get notified when that company posts jobs. LinkedIn Company Pages also show you if any of your contacts know people who work at those companies.'
6. Tailor your profile to a new career
Carving out a new career when you've spent years in an unrelated industry can make it seem like your skill set will never be relevant. With LinkedIn's Job Search tool you can construct a profile that's right up a job advertiser's street.
'Pick out the key skills that are asked for in job adverts that you're interested in. The chances are that you've used skills, such as time-management, organisation, team-work and flexibility, in other areas – so highlight when you've used these 'transferable skills' and make your CV tailored to their requirements.'
7. Do a little detective work
No matter how long you've had to prepare for a meeting, you can never anticipate the questions. But now at least, you can find your common ground with a potential employer before you've even met.
'Professionals are signing up to LinkedIn at a rate of approximately two new members per second. Use LinkedIn's Advanced People Searcher to find and research over 277 million professionals before making a face-to-face connection. You'll discover any common connections, how long they've been in their current role and even their previous experience, skills and interests. Perfect for those early awkward silences.'
8. Build your network
It's an unwritten rule that 50 is the minimum number of contacts needed for a successful LinkedIn profile, though the more connections you're able to build the more you will start to show up in sidebars and searches.
Family, friends, colleagues and peers are all valuable connections, but don't just send out a cold call to your inbox, it won't make you many friends. 'When requesting to connect, keep it personal instead of the standard message LinkedIn can send – it helps forge a relationship,' says Darain.
9. Open Your Own Opportunity Doors
If you're without a job, it's easy to feel like you're invisible. One great feature of LinkedIn is 'Groups'. Groups exist in a number of guises including industry specific, entry level specific and job type specific, and the more involved you are, the more your visibility improves because recruiters are quite often carefully following Group discussions. LinkedIn members are sharing insights and knowledge in more than two million LinkedIn Groups. They give you common ground and a reason to reach out to other professionals. So if the job won't come to you, it's much easier to take matters into your own hands.
10. Show You're A Highly Motivated Job Seeker
Get the key to the vast LinkedIn world with the Job Seeker facility. A free 30-day trial (and £12.95 per month, thereafter) will grant you a 'Job Seeker Badge' on your profile, which gives potential employers an immediate indication that you're looking for new opportunities and will also enable you to see who's been viewing your profile (a feature which is hidden from users if they choose not to show their own activity). This facility certainly sets you apart from other potential candidates, giving you the upper hand and some much needed insight.
11. Use LinkedIn's Connected App
LinkedIn's dedicated app gives you relevant and timely reasons to reach out and keep in touch with people in your network so there are no awkward dry exchanges between you and your former colleagues.
12. Self-Publish On The Site
LinkedIn's self-publishing platform gives you a platform to share and comment on industry trends. It's a great way to showcase your professional knowledge and position yourself as a though leader within your industry. You can also use it to highlight some work you've done! Perfect.
13. Don't Use Buzzwords
LinkedIn recently analysed the profile summaries of its 20 million members in the UK - and found that people were using the same buzzwords over and over again, rendering them less effective. They recommend avoiding them if you want to truly stand out from the crowd. Ready for the top ten? They are: Motivated, Creative, Enthusiastic, Track record, Passionate, Successful, Driven, Leadership, Strategic and Extensive experience. Now go through your profile - and make sure you're not using any of those words. They just sound redundant once you see them again and again.
Celebrity news, beauty, fashion advice, and fascinating features, delivered straight to your inbox!