Why I'm masturbating more than having sex with my partner
'I'm the first to admit that I love to wank.'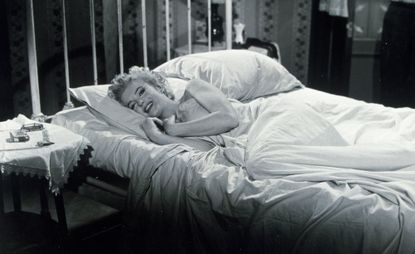 (Image credit: SNAP/REX/Shutterstock)
'I'm the first to admit that I love to wank.'
Words - Stina Sanders
I'm the first to admit that I love to wank.
For some women, masturbation is a subject that not many wish to discuss, let alone admit that they like to do. Until of course, they've had a couple of wines at an Ann Summers party…
Personally, there is nothing better than a good rub downstairs. I may be old fashioned but whenever I stroke myself, I prefer to use my hand than a sex toy. It may seem strange to some, but I have never understood the joy of sticking an aggressive rubber-wand up myself - especially one with with bunny ears!
For me, the rampant rabbit is just as overrated as sex. It's sad to confess this but since I've been sexually active, I have never experienced an orgasm through penetration. (Yes, sorry ex boyfriends, I did fake that face.)
Don't get me wrong, I do enjoy sex - but I'd rather spend the night pleasing myself.
I mean why not? I'm really good at it. I know exactly where all my sensitive spots are and I know what works and what doesn't. I know what speed to use and pressure. And just like magic, I can make myself orgasm in seconds, all from the tip of my fingers!
I masturbate more than I have sex with my partner. And even when we're having sex, I'll still play with myself.
Clitoral stimulation is key if I want to achieve an orgasm and apparently that's the same for a lot of women too. In fact, 75% of us wouldn't get off without the help of a hand.
Regardless of whether you use your hand, an object or finger, everyone should invest in some 'me time' at least twice a week. Getting to know yourself and what you want, is not only fun but it allows you to be more vocal in the bedroom.
Although, to this day, sex with myself is the best sex I've ever had. And probably always will be.
I'm pretty sure there is no one out there who can make me see stars and not mistake my labia for my clitoris.
The moral of this story is if you feel bad about wanting to wank more than spending a night of romance with your partner; please don't. There is no shame in closing your eyes and giving yourself a free massage.
At the end of the day, you deserve it.
Follow lifestyle blogger Stina Sanders on Instagram. And read her piece in defence of period sex here.
Celebrity news, beauty, fashion advice, and fascinating features, delivered straight to your inbox!