The Big Trip: Quebec, Canada
Ice-driving, husky dogs, underground spas and fine French food – Martha Hayes discovers the winter wilderness of the Mauricie region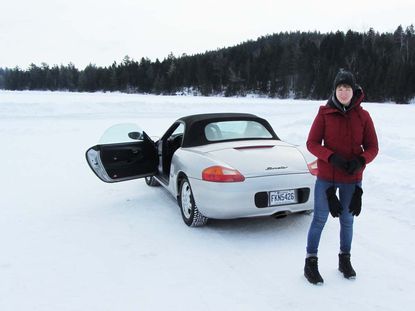 Ice-driving, husky dogs, underground spas and fine French food – Martha Hayes discovers the winter wilderness of the Mauricie region
Ice-driving, husky dogs, underground spas and fine French food – Martha Hayes discovers the winter wilderness of the Mauricie region
'Wooooo hooooo!!!!!!!' I'm racing in a Porsche Boxster at close to 150mph on a frozen lake in deepest, wildest, Quebec. I think I'm screaming pretty loudly, but I can't hear myself over the engine and I can't see anything other than the gusts of snow blowing onto the windscreen every time the car's 400-stud tyres skid round a bend. Thankfully it doesn't matter as I'm in the passenger seat beside our instructor, Jean-Sébastian Sauriol, who single-handedly brought this Bond-style thrill to northern America.
Girl racer: Martha gets ready for her ice-driving adventure
Next it's the turn of my boyfriend, Chris, to get behind the wheel – and it's safe to say he thinks he is 007. I've never thought of myself as an adrenaline junkie, but that's why Hôtel Sacacomie, a winter wonderland buried in a breathtaking forest in eastern Canada's Mauricie region, seems perfect for a couple like us. This enormous, log cabin-style resort caters for both the adventure-seeking (dog-sledding and snow-tubing are just a couple of the many activities on offer alongside ice-driving) and the spa-worshipping – and the somewhere in-between. A two-hour drive north-east of Montreal (and 37 miles from the nearest city of Shawinigan), this remote nature resort, built from 250 year-old pine trees, attracts mainly French holidaymakers (Montreal being the second largest primarily French-speaking city after Paris). It definitely seems like we've stumbled across a hidden gem.
Far from feeling like outsiders, we are warmly welcomed by the hotel staff – and particularly Daniel, a boundlessly energetic, bearded 62-year-old woodsman and guide who is at his happiest when cocooned in wild fur making guests do daredevil things in the snow. Or downing shots of strawberry liqueur and hazelnut whiskey at the Sacacomie's 'ice bar'. Our induction, on arrival, involves knocking back such drinks then throwing the ice glasses over the balcony onto the snow-quilted forest to make a wish. Like, er, can we move here?
Pool with a view: the outdoor eucalyptus steam bath at Hôtel Sacacomie
While the hotel's dedication to the art of taxidermy (porcupines, raccoons, caribou, you name it) takes a bit of getting used to, the roaring fires and enormous wooden beams make our home for the next three nights feel cosy rather than imposing. Our bedroom (with a view – naturally) comes with a jacuzzi bath and an endless supply of logs for the fireplace, which, trust me, are more of a necessity than a luxury after an afternoon's dog-sledding. The six huskies, whose names sound straight out of Snow White and the Seven Dwarves, and who guide us on an hour-long journey through the wilderness, are delightful and seem to know what they're doing. At least that's what we're told – with the two cleverest at the front, the two strongest at the back, and the 'pretty' ones in the middle. I just wish I could say the same for the February weather, which is all over the place. I start off determinedly mushing but when a violent snow storm breaks I opt to snuggle up in the sleigh with a tartan picnic blanket over my head while Chris takes his turn on the reins. But hey, it's nothing that a trip to the Geos Les Bains spa won't fix.
Boasting an underground sauna with light therapy and an eucalyptus steam bath, it's easy to see why visitors flock to the majestic setting of Sacacomie for a sumptuous spa sesh, even if we do hit Canada's coldest winter for 100 years with a wind chill as low as -40°C. Think fifteen minutes in the sauna, a dip in the ice-water bath (via an ice-cold waterfall), followed by ten to 15 minutes in front of a roaring fire in the relaxation room. And repeat... I feel like Wonder Woman. Which is just as well when we discover what Daniel has planned for us next.
Christmas log: a cosy cabin in the woods at Hôtel Sacacomie
By 9am the following morning I've put on so many layers I look like Joey in Friends when he's wearing all of Chandler's clothes. The pièce de résistance is the padded snow trousers, that along with helmets and sturdy snowboots are provided free of charge and will keep us shielded and toasty when we head out on a snowmobile. Daniel drives ahead on his, guiding us carefully through the woods onto the frozen Sacacomie lake, a glittering, wide-open space that's ours for the taking. Racing up and down clinging onto Chris feels utterly exhilarating – and romantic, although probably more Tom Cruise in Top Gun than James Bond (sorry, Chris). It's not as insane as the ice-driving but it's faster than the huskies, and I feel like I've found my stride. 'We must have been going at, what, 110mph?' I ask. 'More like 65,' says Daniel with a smile.
We keep our armour on for the afternoon; swapping the boots for snowshoes when Daniel takes us out on his woodsman trek. It's like having a tennis racket attached to each foot and seems as much a hindrance as a help when I fall over for the fifth time, captured on the smartphone should You've Been Framed! ever be short of footage. Daniel then leads us to a little hut where rare animal furs are lined up on a washing line. Our host is entertaining company – full of stories about the life of a trapper back in the day, which stops it from feeling too much like the start of a horror film.
Ice queen: if you want some winter thrills try snowmobiling © Destination Quebec
Later we are joined by a group of fellow hotel guests and Daniel lights a fire on which to cook the fillets of local trout he's carried here in his rucksack. Glasses of Caribou (a Québécois concoction of red wine, whiskey and maple syrup) are downed and a song chanted (first in French and then English) about how 'all we need is a cabin in the woods'. The fish is delicious and needs no seasoning 'because it tastes of nature' explains Daniel. Yep, they're proud of their trout at Sacacomie, and of all their food in general, showcased in a typically French set menu at meal-times. We get three-courses including red ale onion soup for lunch then four courses, with a heavy meat dish such as duck confit, at dinner. After all that, it's a wonder I'm not air-lifted out on a ski-plane.
It's worth allowing at least a couple of days – before or after your time in the snowy wilderness – to see Montreal. The city has the largest number of restaurants in North America after New York and some, if you go off the beaten track, are even comparable. It's not all smoked meat, bagels and poutine (a French Canadian speciality of chips and cheese covered in gravy) either, as we find when we stumble across Grumman '78, a super-hip tacos restaurant in a distressed but stylish warehouse full of guys with beards (which are both practical and cool). If you love the chic café culture of France you'll feel at home, and there's no language barrier here – just rows upon rows of enticingly stylish department stores to rival Paris inviting you in.
It's all pine: Hôtel Sacacomie is also stunning in the summer
In the summer, street-food vans set up in the Olympic Stadium and Canada's cultural capital comes alive with all kinds of dance and fringe festivals. But while I've heard great things about that time, for me, Montreal in winter takes some beating. The Fairmont The Queen Elizabeth hotel, where John Lennon and Yoko Ono held one of their two bed-ins in 1969, is well placed for exploring the cafés and boutiques of the vast Underground City, where you barely need step a foot outside. Unless, of course, you want to go snow-tubing down Mount Royal or ice skating at Beaver Lake. But that's been quite enough winter adventures for me – until next year.
Book now
Air Canada (aircanada.com) flies from London Heathrow to Montreal from £445 return.
A five-night 'Winter Adventure in Quebec' costs from £871 per person through Discover the World (01737 214 291; discover-the-world.co.uk), including transfers, two nights room only at the Fairmont The Queen Elizabeth hotel in Montreal with city tour, and three nights half-board at Hôtel Sacacomie with complimentary activities such as ice-skating, tobogganing, snowshoeing and cross-country skiing. Flights are extra, departures run from December 2015 to March 2016.
Additional costs include spa entry £28, dog-sledding £107, ice-driving £115 and snowmobiling £145, all per person – book in advance as part of your package. Winter-strength clothing is provided for outdoor activities, but you'll need to wrap up too.
Top 10 Travel Guide: Montreal & Quebec City (£7.99; DK) covers the region; see tourisme-montreal.org, quebecoriginal.com and keepexploring.ca.
Lead image and thumbnail © Destination Quebec
Celebrity news, beauty, fashion advice, and fascinating features, delivered straight to your inbox!