Spiritual and Wildlife Retreat: Anopura's Rural Escape
With the surge in Ayurveda's popularity and our collective pursuit of spirituality and mindfulness, this Indian hotel offers it all. Discover Anopura, where spiritual nourishment meets nature's finest to rewild and regenerate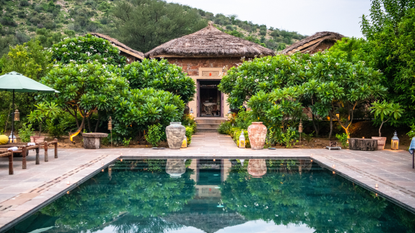 (Image credit: Anopura Hotel )
India, with its vivid hues, pulsing energy, tantalising spices, and deep-rooted spirituality, has always been a magnet for those seeking diverse experiences, spiritual enrichment and sensory overload in the best way possible. It's a destination that continues to fascinate and never fails to ignite personal introspection and growth.
Anopura, a peaceful sanctuary tucked away in the foothills of the Aravalli Mountains just an hour from Jaipur, perfectly captures this allure. This oasis offers not only spiritual solace but also the thrill of the wild, combining rejuvenating wellness practices with exciting leopard safaris and insightful farm tours.
A pocket-sized paradise, Anopura was originally built in 2010 by Jaipur-based entrepreneur, Aditya Baheti, and this passion project has been gently developed over the last decade with heart and soul poured into every element. Enveloped by lemon groves, frangipani trees and marigolds, the farm-led Indian property is home to four one-to-three-bedroom villas, a world away from the region's traditional tourist trail. Among the serene spaces are three shimmering pools, lush gardens, and inviting outdoor tabaris for relaxation.
LOCATION:
Anopura, situated near Jaipur in the heart of Rajasthan, boasts the title of being one of the world's smallest luxury hotels, ensuring an unparalleled intimate experience for guests. Nestled within the famed Golden Triangle, its prime location provides easy access for explorations to Jaipur, Delhi, and Agra, making it a perfect base for travellers seeking both luxury and cultural immersion. An hour's drive northeast of Jaipur, the journey to Anopura is an adventure in and of itself: ancient temples, dramatic rock faces, and date palms decorate the jungle landscape. We saw monkeys, elephants, roaming cows, and camels on our drive.
TRAVEL:
Anopura is situated an hour from Jaipur, close to the 30-minute drive from Amber Fort, and a 210-minute journey from Delhi Airport. Most travellers arrive through Delhi Airport (Indira Gandhi International Airport). Jaipur's Sanganer Airport, just an hour's drive away, offers domestic flights. Anopura provides assistance with transfers - which is incredibly helpful if you plan to go on a long trip with several stops over a few days like we did. You can also opt for a scenic train ride to Jaipur City train station from metropolises like Delhi, Mumbai, Bangalore, or Chennai. The station is a 50-minute commute from Anopura.
THE HOTEL:
Anopura has gradually evolved into four individually designed villas and a large farm with experiential dining areas found throughout, with the layout reminiscent of the villages that surround the nearby area of Jamwa Ramgargh. The villas are traditional bungalows with thatched roofs, each with its own tabari (outdoor lounge area), complete with large sofas scattered with cushions block-painted by local women from the neighbouring village, coffee tables piled with a collection of Baheti's hand-picked favourite classic novels and games, outdoor showers, and bespoke charpoy daybeds located around the private pool area. Each villa has a local private host who is on hand throughout the duration of a guest's stay.
They have just opened the seven brand-new suites, ideal for couples and solo travellers, where there is a communal space with a natural stone infinity pool and yoga deck which has been designed to foster a sense of community and connection. Replicating centuries-old building techniques, natural products like lime mortar are used to reduce air conditioner usage and keep the rooms cool while remaining chic with a polished concrete look.
INTERIOR DESIGN:
Drawing inspiration from its location near Jaipur, a city renowned for its rich heritage of arts and crafts, Anopura brilliantly incorporates elements of traditional Rajasthani design. The hotel's decor is highlighted by exquisite furnishings and furniture that beautifully merge local craftsmanship with modern comforts. One of the standout features is the extensive use of block-printed fabrics, the technique a centuries-old craft of Jaipur, involving engraving wooden blocks to imprint designs on fabric. The motifs often depict floral patterns, geometric designs, and elements of nature, reflecting the colours and vibrancy of Rajasthan. The furniture, handcrafted by local artisans, showcases the dexterity and intricacies of Rajasthani woodwork. Overall, Anopura's design philosophy is a tribute to the rich artistic traditions of Jaipur, creating an ambiance that is both luxurious and deeply rooted in local culture.
THE ROOMS:
While the décor may be traditional, rooms come equipped with modern comforts such as air conditioning, WiFi, and upscale bathroom fixtures. Its limited number of suites and villas not only assures exclusivity but also spacious luxury. Nestled amidst lush lemon orchards and vibrant gardens, each room offers serene vistas of the surrounding beauty. Our room boasted a large, comfortable bed, inviting seating, a little desk area, and a private terrace. The bathrooms - some with standalone tubs and invigorating rainfall showers, were further enhanced by the most aromatic toiletries - I wanted to bottle the scent and bring it home with me.
THE FOOD:
The food at Anopura was delicious and there's nothing like experiencing Indian cuisine right at the source. Commitment to organic fare means every dish celebrates fresh, local produce and the skilled Rajasthani chef effortlessly melds Eastern and Western flavours. There's a certain magic in enjoying a chickpea curry, spiced just right, alongside a fresh continental salad tossed with olive oil and herbs. What makes this culinary experience even more special at Anopura is the emphasis on farm-to-table dining.
The sprawling 6-acre garden of Anopura is a testament to sustainable and organic farming. The garden doesn't just offer fruits; it's a treasure trove of fresh vegetables, herbs, and spices that form the base of many dishes served at the hotel. When you dine at Anopura, you're not just indulging in a meal; you're partaking in a journey through the grounds.
Coriander, lemongrass, and chilli plants make up the 18 varieties of herbs and spices, alongside 40 types of vegetables used throughout the creative culinary offering. Home to some of the largest marigolds and moringa farms in Northern India – both of which are key ingredients in traditional Ayurveda - Anopura's ethos is rooted in ancient rituals. Every day the plants are played Hindu devotional chants called Bhajans; the echoes of these tender prayers drift through the air and the gentle hum can be heard across the grounds. Guests can explore all elements of the farm during their stay and children are encouraged to learn about the production of ghee, paneer, and curd, all of which are produced on-site. 90% of all produce at Anopura is created on the ground and by 2030, the team aims to create everything on-site.
SAFARI:
The leopard safari at Anopura is an experience that stands out. The thrill of spotting wild cats, owlets, and jackals in their natural environment is exhilarating. Embarking on such an adventure is always captivating, with every turn revealing nature's surprises. The magic multiplied for me because I shared it with my 7-year-old daughter, Eliza.
THINGS TO DO:
This pocket of Rajasthan still eludes the crowds, offering eye-opening experiences to explorers with innate curiosity. Signature offerings include leopard safaris across astonishing landscapes rich with history, and tea in the organic farm with homemade banana bread while soaking in the view of the Aravalli Mountain range. Amber Fort is located just 30 minutes from Anopura, this iconic fort on a hilltop is a blend of Rajput and Mughal architecture. Immerse yourself in the local culture by taking a walk through nearby villages, interacting with the residents, and getting a glimpse of their daily life. The architectural wonders of the Taj Mahal is also a massive draw - although a 5 hour drive away. The nearby Galta Ji Temple, also known as the Monkey Temple, is renowned for its natural springs and the resident troop of monkeys. While Anopura itself might offer relaxing spa treatments, you can also explore other wellness centres in Jaipur for Ayurvedic treatments and massages.
SHOPPING:
As well as safari, Jaipur is a shopper's paradise, renowned for its tradition of arts and crafts - and it is also famous as the gem capital of India. Jaipur's block-printed textiles, bandhani (tie-dye), and hand-embroidered fabrics are sought after globally - I have bought back so many tablecloths for my friends and family - and my own home. Local Bazaars are markets like Johri Bazaar, Bapu Bazaar, and Nehru Bazaar that provide products from footwear to textiles to decorative items. I was also recommended looking at FabIndia.com for authentic block-printed clothes and interiors.
Compared to many Western countries, shopping in Jaipur can be more affordable, allowing visitors to get high-quality products at a fraction of the price they might pay elsewhere. With a push towards sustainable and ethical shopping, many stores and artisans in Jaipur now offer eco-friendly products, promoting sustainable tourism.
HOW TO BOOK YOUR TRIP:
Rates for a one bedroom farm villa start from INR 18000 (approx £170) per night on a bed and breakfast basis. For more information, visit https://www.anopura.com/ and follow @anopura.jaipur
Celebrity news, beauty, fashion advice, and fascinating features, delivered straight to your inbox!
An award-winning health and beauty writer, stylist and creative director, Lisa Oxenham is one of the UK's top beauty editors and the Beauty and Style Director at Marie Claire UK. With 20 years of editorial experience Lisa is a brand partnership expert, and a popular speaker, panelist and interviewer on a range of topics from sustainability to the future of beauty in the digital world. She recently spoke at Cognition X and Beauty Tech Live and is on the Advisory Board for the British Beauty Council's Sustainable Beauty Coalition.
A well-respected creative director she works on celebrity, model and influencer shoots with the highest calibre of photographers, filmmakers, make-up artists and hairstylists to create timeless images, attention-grabbing videos, digital events and masterclasses. Most recently Lisa has directed covers such as Lily Cole and Jameela Jamil, films such as Save The Arts featuring Francesca Hayward and sustainable fashion shoots such as Be The Change. Supporting the beauty industry over the pandemic has been a top focus, directing the British Beauty Council's six inspirational short biographical films for their Bring Back Beauty campaign.
Lisa is a wellbeing and beauty influencer with a focus on mental health and a large and engaged audience on Instagram, Facebook and Twitter.