From Donatella lunches to J-Lo inspired furniture, inside Dubai's Versace Hotel
An inside look at Donatella Versace's brand new Dubai home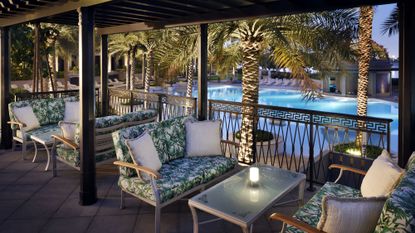 (Image credit: Palazzo Versace Hotel)
An inside look at Donatella Versace's brand new Dubai home
If you're a Noughties fashion geek you'll appreciate this little detail from Dubai's Palazzo Versace Hotel. In the hotel's poolside Giardino restaurant the day beds, cushions, wallpaper and button-up shirts worn by the staff are all decorated with the same Versace print J-Lo wore to The Grammys back in 2000, the plunging look that inspired Google founder Eric Schmidt to create the Google Image search function.
The best hotels are all about little anecdotal details like these, and The Palazzo Versace is full of them. If you walk into the tennis court-sized reception and look down at the floor you'll find an enormous mosaic copy of a Persian rug in Gianni Versace's old Italian home. It's made up of 1.5 million pieces, all cut from natural-coloured stone.
The 5-star Palazzo Versace Hotel opened in suitably extravagant style last November, when Donatella flew her entire couture collection straight from the Paris runway to the hotel for a week of private appointments. This is the second Versace Hotel to open - the first is on Australia's Gold coast - and its Italian-style architecture is an homage to the original Palazzo Versace, the Milan home of the brand. It sits on the water of the newly-developed Dubai canal, which was flooded last year after a mammoth dig that cut straight through the main city.
Despite the Palazzo Versace Hotel's UAE location, and the lavish brand behind it, don't expect wall-to-wall gold taps and noisy prints. The Versace Medusa head and lion logos do appear on everything from the ornate patterned dinner plates to the bath towels, but the overall feel is subtle rather than in-your-face.
The rooms
The advantage of opening a hotel under a major brand? No need to shop around stuff to fill it with. Nearly everything you touch in the hotel is Versace - including the bed sheets, which (FYI) are insanely soft, like going to bed on a huge, silky cloud. The rooms are spacious and equipped with a well-lit vanity mirror to do your make-up, so you don't suffer from dim-hotel-light-clown-make-up (that's a thing), and the hair dryers are powerful (this is a big plus IMO, most hotel hairdryers basically just sigh on your hair). The patterned peach bedsheets in our room made the decor feel quite 70s, an antidote to the '100 ways with taupe and grey' approach of most modern hotels.
The food
For a fashion lunch hit the hotel's Italian restaurant Vanitas took drink a glass of crisp white with beef carpaccio and one of the delicious, lightly dressed fish dishes (or if you're feeling hungrier than that, a plate of pasta). The hotel's other main restaurant is Enigma, where they run a chef residency for twelve weeks at a time to keep things fresh. When we visited it was Turkish cuisine, with dishes like spicy lamb neck and sour cherry biscuits. Breakfast is a sunny affair that takes place in the palm-print Giardino on the other side of the hotel.
The spa
Most spas look pretty much the same, but the one at the Palazzo Versace is rather special, with exquisite mosaics and beautiful heated stone beds to lie on while you wait for a treatment (only slightly ruined by the woman lying next to me playing videos at full volume on her phone - who does that in a spa?!) The most extravagant 'treatment' on the menu is a 7 hour 30 minute number called The Ultimate, which includes a Hammam 'ritual', a massage, facial and blowdry, with a two-course lunch at Vanitas at some point in between. If that feels like overkill a one hour de-stress massage is pretty divine.
After-hours
Jazz isn't a big thing in Dubai, but Quincy Jones's first ever jazz bar 'Q' at the Palazzo Versace is hoping to change that. With a rota of live musicians and some seriously good cocktails, you can roll straight from dinner at Enigma for live music and a nightcap. All very La La Land.
Palazzo Versace Dubai Hotel & Residences is set in the heart of the Culture Village on the historic Dubai Creek. A deluxe room costs from £840 night (based on two sharing on a room-only basis excluding taxes). For more information, please call +97145568888 or email info@palazzoversace.ae
Celebrity news, beauty, fashion advice, and fascinating features, delivered straight to your inbox!