Easy Escapes: Istanbul, Turkey
Looking for an amazing city break? Uniting Europe and Asia, this Bosphorus beauty packs a powerful cultural punch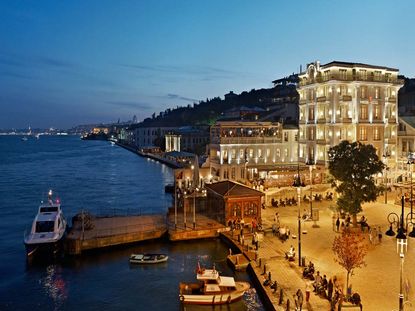 (Image credit: AliBEKMAN)
Looking for an amazing city break? Uniting Europe and Asia, this Bosphorus beauty packs a powerful cultural punch
Looking for an amazing city break? Uniting Europe and Asia, this Bosphorus beauty packs a powerful cultural punch
Why go? 14 million people, endlessly buzzing streets, ornate Ottoman palaces, grand European hotels, spice-filled bazaars, steamy hamams, roof-top bars, exotic cuisines, waterfront promenades... By the time you fly home, you'll know you've seen one of the world's great cities.
When? Anytime is good, as there's so much to see, but winters are cold... From now until late September is a smart time to visit, as you can catch the summer heat and lively waterfront and rooftop bar scenes.
Bright lights, warm nights: the waterfront at Ortaköy
You really must... Sultanahmet, Istanbul's historic core and seat of the Byzantine and Ottoman empires, is home to many essential sights. Top of the must-see list is Haghia Sophia (closed Monday, ayasofyamuzesi.gov.tr), a huge, time-encrusted church dating from 537 – there's even Viking graffiti on the upper gallery. The refreshingly cool, minaret-spiked Blue Mosque (sultanahmetcami.org) dates from the early 17th century, while the massive Topkapi Palace (closed Tuesday, topkapisarayi.gov.tr) is a monument to imperial extravagance. Sultanahmnet is touristy but don't be put off – if time is tight enlist the help of a local guide to fast track you through the ticket offices and queues. Zerrin Sapmaz (atozistanbul.com) speaks excellent English and is equally engaging whether talking about life in a royal harem or the current political situation.
For something more intimate, find your way to the Kariye Museum (choramuseum.com), also known as the Church of St Saviour in Chora. Dating from the 11th century, its Byzantine mosaics and frescos have a touching beauty, and afterwards you can lunch in the gardens of Asitane (asitanerestaurant.com) which specialises in recreating regal dishes from the Ottoman Empire. Try the shepherd's salad with diced tomatoes, cucumbers, peppers, crushed walnuts and pomegranate dressing, then some peach ka'a – cinnamon-flavoured walnut pastry topped with baked peaches and ice cream...
Bathing beauty: opened in 1580, Kiliç Ali Paşa Hamam has now been brilliantly restored
You can't leave without trying a Turkish hamam. The guide books have plenty of options but our pick is the beautifully restored Kiliç Ali Paşa Hamam (kilicalipasahamami.com). Part of a 16th century mosque, it has a gorgeous domed ceiling, wooden balconies and a serene grey marble decor. Women's hours are 8am-4pm and the friendly staff will fill you in on the etiquette, which is basically get naked or keep your swimwear on – your choice! A 'Hamam Ritual' including a thorough washing and an exfoliating rub-down costs £36, excluding tip.
Stay at: If you like to party, The House Hotel Bosphorus (doubles from £130, thehousehotel.com) is in the lively Ortaköy district and right on the waterfront. An elegantly restored 19th century architect's mansion with 26 palatial rooms and an inviting first-floor lounge/breakfast area, it's right next to top club Anjelique (anjelique.com.tr). Bordering Gezi Park, the 11-storey Gezi Hotel Bosphorus (from £155, gezibosphorus.com) has Mondrian-inspired interiors with 67 contemporary rooms and a spa. Both properties are members of Design Hotels (designhotels.com), which has six hotels in the city, for more information and bookings see here.
Turkish delight: a bedroom at The House Hotel Bosphorus
Dine at: Didem Şenol Tiryakioğlu is a talented female Turkish chef with a hip restaurant, Lokanta Maya (lokantamaya.com), that serves simple but exquisite dishes and drinks such as zucchini fritters with cardamom yoghurt sauce, caramelised sea bass with sautéed chard and plum, and green tangerine iced tea. It's in the upcoming harbourside Karakoy district, which is full of interesting shops, galleries and eateries and close to Istanbul Modern, the city's nearest thing to Tate Modern (istanbulmodern.org). If you're inspired by her style, get her new cookbook Aegean Flavours (£30; Jacqui Small).
For a romantic meal on the Asian side, head for Tapasuma (tapasuma.com), a hotel and restaurant in a converted arak distillery with terrific views of the nightly show of lights on the Bosphorus Bridge. They will collect you in their complimentary launch (book ahead) and it's great fun to cross continents for dinner. Sitting out on the cobbles watching the boats go by is pleasure enough, but chef Gökay Çakiroğlu's menu brings a welcome sensuality to traditional Turkish ingredients – think squash blossom stuffed with seafood, basil and dill, and lamb rolled in pistachio and fresh artichoke with saffron sauce. Turkish wines can be good but it's hard to know where to start – try the red Urla Vourla 2010.
Other recommended dining spots are Hünkar (hunkarlokantasi.com), in the wealthy Nişantaşı area, which has been going since 1950 and has an elegant dining room serving old favourites like stuffed aubergines and grilled lamp chops. Lokanta Yeni (closed Sunday, lokantayeni.com) is more of the moment with a modern take on meze and interesting cocktails like a green apple ginger mint vodka.
Glass act: look for vintage finds in Çukurcuma © imagepalace.co.uk
Bring home: The Grand Bazaar is one of the world's largest and oldest with some 5,000 shops. It sells everything from jewellery and hand-painted ceramics to embroideries, spices, coffee and antiques – and of course, carpets. The smaller and more touristy Egyptian Bazaar in Eminönü is also delightful. Bartering is the norm – offer a third of what the vendor opens with then don't go higher than two-thirds, and have small notes available as they never have change...
Istiklal Caddesi is the cobbled Istanbul equivalent of London's Oxford Street, but pedestrianised and with a lovely old wooden tram trundling down the middle for when you get tired. The world, his wife, and their children, will be out well into the night, shopping, gossiping and taking apple tea and sweet pastries in the glittering cafes. It forms the spine of Beyoğlu, the old European quarter which still has lots of embassies and churches. The side streets are full of interesting little shops – try Çukurcuma, a charming neighbourhood centred around the Museum of Innocence (masumiyetmuzesi.org) created by Nobel Prize-winning Turkish author Orhan Pamuk. Mozk (mozk.co.uk) has re-upholstered vintage furniture (they can ship) and nearby Kare Deri & Parsomen (parsomen.com) sells attractive parchment leather bags. For more shopping tips get a copy of Luxe City Guide Istanbul (£4.99; luxecityguides.com).
Book now: Turkish Airlines (turkishairlines.com) flies direct to Atatürk International Airport from four UK airports, from £230 return in September. Visas are required, which you can get on arrival or in advance online (evisa.gov.tr). The best way to get from the airport depends on the time you arrive and where you're staying, with a choice of bus, train or taxi – ask your hotel for advice. Taxis are inexpensive and the best way to get around, but get your destination written down before you set off.
Info: Pocket Rough Guide Istanbul (£7.99; Rough Guides) is a handy guide, useful websites are timeoutistanbul.com and gototurkey.co.uk.
Celebrity news, beauty, fashion advice, and fascinating features, delivered straight to your inbox!