Discover the joy of sailing in Sicily
Live your best White Lotus life aboard a Sunsail cruising yacht this summer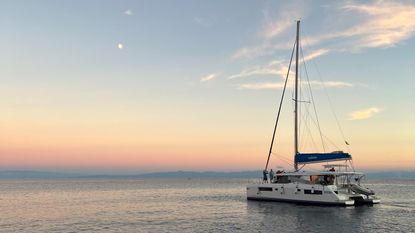 (Image credit: Nicola Moyne)
The sky is a blazing ribbon of cornflower blue; the Tyrrhenian Sea, a sparkling pool punctuated only by volcanic outcrops in the distance; Stromboli is simmering gently in the midday haze. There's not another yacht in sight, but our 32ft Jeanneau Sun Odyssey is carving its way through the gentle winds with ease, her billowing sails pushing us safely towards the isle of Lipari. I'm too busy sipping an ice-cold San Pellegrino Chinò on deck to notice them at first – two soft, silver blades emerging from the velvet-smooth waters like perfect parcels of surf. But then they're impossible not to see: inquisitive dolphins seeking a wave to ride, their silky pirouettes twisting and turning of the nose of our bow, their playful leaps and friendly belly rolls bringing tears to my eyes.
Just another day in paradise? Close: just another day sailing the Aeolian Islands – a volcanic archipelago off the coast of Sicily comprising seven UNESCO-protected isles and a plethora of fabulous restaurants, boutiques and intrepid hiking trails to boot.
We're here with Sunsail Holidays for the week to experience our first flotilla escape, which, despite the advantage of having a professional skipper and hostess on the lead yacht for support, is still a slightly nerve-wracking endeavour for two sailors who have never helmed overseas before. Thankfully, we needn't have worried: it soon becomes clear from the first briefing in Portorosa Marina (located just under two hours from Catania-Fontanarossa airport) that Sunsail offers the best of both worlds: freedom to sail independently, but with as much help as you need when it comes to mooring in marinas, anchoring, and navigating each day's itinerary. If you get in a pickle, a pro from the region is just a What'sApp away. And, if you've never sailed a day in your life, you can also hire your own dedicated skipper for the week, choosing to either kick back in the sun with a bottle of bubbles or muck in on deck to start learning the ropes.
Our seven-day jaunt sees us take in the sights of Portorosa, Vulcano, Salina, Lipari, Stromboli, and Panarea – although each itinerary is subject to change and always tailored to the weather. We rub alongside an eclectic bunch of fellow international sailors, too – French, German, Polish, South African, even a couple of Brits-turned-Kiwis, join us for sundowners at anchor and morning briefings marinaside. During the sun-scorched days at sea though, it's just you, the wind, the sails and – if you're super-lucky – an escorting pod of dolphins.
The yacht
Depending on your group size and sailing experience, Sunsail offers up a wide variety of vessels to suit your needs. From 32ft, two-cabin monohulls sleeping up to six, to 50ft, five-cabin, luxuriously appointed catamarans that can comfortably sleep 10, there's a yacht with your name on it.
Incidentally, the name of our charming monohull is Pupaella – a Neapolitan term of endearment meaning 'little doll' – and she really is. Kitted out with all the nautical mod cons (think state of the art sat nav, auto helm and a motorised tender), she's our contemporary cocoon on the water for a week and a pleasure to sail too, boasting easy handling at the wheel (yes, even going astern) and a main sheet traveller on the coach roof, ensuring the cockpit is gloriously free for lounging, eating and dolphin watching.
The modern kitchen is also well-appointed – and well-used by us – with evenings at anchor spent cooking traditional Sicilian pasta dishes on the stove and supping generously gifted red wine (all Sunsail vessels on our trip came complete with a welcome pack, comprising washing-up liquid and sponges, soap, shampoo, toilet roll and – crucially – a decent bottle of Italian red). You won't need to worry about towels, bed linen or cooking utensils and cutlery, either – all that comes as standard, as does a full tank of fuel.
You will, however, need to provision the boat (stock up on all your food and drink) before departing, yet Sunsail has even made this easy, with a handy pre-ordering service available online. Alternatively, Portorosa Marina features a handy supermarket for all your cheese, pasta and water/wine needs, with friendly staff insisting they'll deliver it direct to your vessel when you mention you're with Sunsail. Genius.
The islands
When it comes to sailing, it's all about the journey, and island hopping each day proves a joy in itself, with gentle breezes offering the optimum conditions for a leisurely cruise and plenty of spots en route to drop anchor and explore a hidden cove, dive in for a refreshing dip, or tuck into lunch of friselle bread, fresh tomatoes and lashings of olive oil under the beating blaze of the Sicilian sun.
However, once you reach your destination (no single passage was longer than 30 nautical miles and most hops took around three hours), there's usually the added pleasure of exploring the island on foot – I say usually because two of the nights were spent at anchor, watching an apricot sky suddenly slice into a kaleidoscopic sunset of pinks and purples.
Salina, in particular, proves a favourite on day three, with its festoon-strung cobbled lanes providing the perfect hit of independent boutiques, charming Sicilian restaurants and sociable street cats lovingly fed each night by the locals. I shop for trad splattered ceramics, handwoven basket bags and lemon-hued linens, while my partner stocks up on delicious cheeses in the deli – all against the backdrop of Stromboli's scarlet lava lighting up a star-strewn sky.
For hikes, don't miss Isla Volcano, either, which boasts panoramic views of the entire archipelago from the peak of its active (but perfectly safe to climb) volcano, Greater Crater. Lipari, meanwhile, is the largest of the Aeolian Islands and delivers a buzzier vibe. Head to its archaeological museum, Museo Archeologico Regionale Eoliano, to buff up on some of Europe's finest ancient finds, stroll along the pretty port at golden hour, or head to one of the isle's fancy eateries for a slap-up, fresh-from-the-Tyrrhenian fish dinner. We opted for the candle-lit Filippino, a heritage restaurant with heart perfectly situated on the panoramic Pizza del Municipio in Lipari Town, but there are plenty of smaller bistros by the waterfront to check out, too.
Just be sure to make it back to your sailboat before dawn – because there's nothing quite like a Sicilian sunrise to kickstart another paradisiacal day on the water.
How to book
To join a flotilla, at least one member of your group must have sailing experience and hold a RYA-approved Day Skipper license. If no members of your group meet these requirements, you can hire a dedicated skipper for the holiday, who will stay on board with your party.
The Aeolian Islands Flotilla package with Sunsail Holidays costs from £3,840 for a seven-day experience. This price includes a lead yacht, assistance, fuel, and a welcome drink. It does not include mooring fees, and food or drinks consumed during the holiday. Visit www.sunsail.co.uk for further information and to book.
Celebrity news, beauty, fashion advice, and fascinating features, delivered straight to your inbox!