The 2014 Dates To Put In Your Diary. Immediately
Got the January blues? Well turn that frown upside down right this minute, and get excited about what lies ahead for 2014... It's going to be a corker.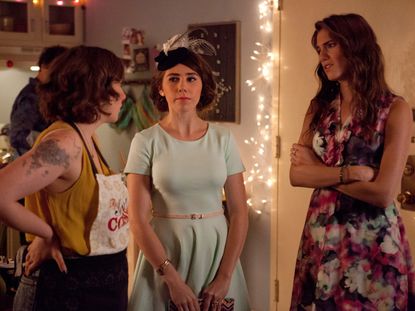 Got the January blues? Well turn that frown upside down right this minute, and get excited about what lies ahead for 2014... It's going to be a corker.
January
1. Season 3 of Girls starts on Sky Atlantic. We can't wait to find out what Lena and co have been up to...
2. The Golden Globes. 12 Jan.
3. 'Season To Taste: or How To Eat Your Husband' by Natalie Young is released. This book about a woman who kills and eats her husband is set to be one of the most talked-about novels of 2014. 16 Jan.
4. The highly anticipated new Martin Scorcese film, The Wolf of Wall Street, hits our screens. Any movie that stars Leonardo DiCaprio and contains a Joanna Lumley cameo is okay by us. 17 Jan.
5. Inside Llewyn, the Coen Brother's latest film about a young 1960s folk singer trying to make it big in America hits our screens. 24 Jan.
6. The Grammy Awards. Just please spare us anymore of Miley's twerking. We beg you. 26 Jan.
7. 'Ripper' by Isabel Allende is released. The New York Times bestselling-author returns with this gripping new crime novel about a teenage sleuth in San Francisco. It will have you hooked from the start.
8. Get set for a lot of hunky men in blouses and feathered hats, as the BBC's new 10-part period drama, The Musketeers, makes its debut.
February
1. Foals, our favourite rock band of the moment, begin their UK tour. 2 Feb.
2. 'Bailey's Stardust' exhibition opens at the National Portrait Gallery. It's being sponsored by Hugo Boss and the exhibition will be the biggest ever retrospective of the legendary photographer's work. 6 Feb to 1 June.
3. The Sochi Winter Olympics. 7 to 23 Feb.
4. Beyoncé takes to the stage in a series of concerts in London and Birmingham. Grab a ticket now. 20 Feb to 4 March.
5. Vodafone London Fashion Week AW14. We can't wait to see what the new season holds and check out Nicolas Ghesquière's debut collection for Louis Vuitton... 14 to 18 Feb.
6. The BAFTA's. 16 Feb.
7. The BRIT Awards. The Arctic Monkeys are performing. Repeat: the Arctic Monkeys are performing. 19 Feb.
8. 'I Can't Sing! The X Factor Musical' debuts at the London Palladium. Mr Simon Cowell is set to be the butt of a lot of jokes in this hotly anticipated new musical about the music mogul's hit show, starring Nigel Harman as the man-in-tight-trousers himself.
March
1. The 86th Academy Awards . Frocks and stars and glamour. Oh my. 2 March.
2. Grace of Monaco is released. We're expecting some pretty fabulous costumes... 14 March.
3. British summer time begins.Yay. 30 March.
4. The fabulous Justin Timberlake returns to our shores with his world tour in March and April. Get booking asap for a front row seat to Mr JT's hotness...
5. 'Fatal Attraction' opens at the Theatre Royal in London. Trevor Nunn directs the first-ever stage adaptation of the 1987 thriller that turned Glenn Close into the original bunny-boiler from hell... 8 March
6. New psychological thriller series Penny Dreadful makes its debut on Sky Atlantic. Prepare for the return of our favourite teen crush Josh Hartnett, who stars alongside Billie Piper.
7. Russell Crowe and Emma Watson star in Noah, a new take on the old tale of one man, one boat and a whole load of animals... 28 March.
April
1. 'The Glamour of Italian Fashion 1945 - 2014 ' exhibition opens at the V&A. 5 Apr to 27 Jul.
2. 'The Fashion World of Jean Paul Gaultier: From the Sidewalk to the Catwalk' exhibition opens at the Barbican Art Gallery. 8 Apr.
3. The Art buffs among you need to hotfoot it down to London's Tate Modern to catch the new Henri Matisse exhibition. 17 Apr to 7 Sep.
4. Victoria Beckham is set to open her first flagship store in the heart of London's Mayfair. Elbows and credit cards at the ready.
May
1. 'Wedding Dresses 1775-2014 ' exhibition opens at the V&A. Just beautiful. 3 May.
2. The Metropolitan Museum of Art - Costume Institute Benefit Gala . We can't wait to see what Cara and Sienna wear this year... 5 May.
3. Cannes International Film Festival. 14 May to 25 May.
4. Sam Smith - the Brits Critics Choice Award 2014 winner - releases his much-anticipated debut album. Prepare to be impressed. 26 May.
5. Following the success of her first book of memoirs, 'An Education', Lynn Barber returns with 'A Curious Career', where she'll regale her readers with tales of her time as a celebrity interviewer. Prepare for lots of insider goss.
June
1. The FIFA World Cup takes place in Brazil. Even we get (kind of) into football during the World Cup... 12 Jun to 13 Jul.
2. Royal Ascot - Ladies Day . 19 Jun.
3. Wimbledon 2014. Come on Andy - we'd like a repeat victory please. 23 Jun to 6 Jul.
4. Glastonbury. If you were lucky enough to nab a ticket, we'll be seething with jealousy as we catch the highlights on TV... Tear. 25 Jun to 29 Jun.
5. The Fall's Gillian Anderson takes on the iconic role of Blanche DuBois in the Young Vic's new adaptation of the Tennessee Williams classic 'A Streetcar Named Desire'.
6. A new stage adaptation of the brilliant 1998 film Shakespeare In Love, which starred Gwyneth Paltrow and Joseph Fiennes, is opening at London's Noel Coward Theatre.
7. If you're still mourning the loss of Downton's Lady Sybil then get excited: Jessica Brown Findlay is returning to our screens in a new BBC2 adaptation of Daphne du Maurier's period novel 'Jamaica Inn'.
8. Set to be the most-talked about autobiography of the year, Hilary Clinton's new memoir will be an absolute must-read. We wonder if she'll dish the dirt on the infamous Monica Lewinsky scandal...
July
1. The Monty Python boys will be reunited for the first time in 40 years at London's O2 Arena. Prepare for some serious laughs and look out for the DVD release if you miss out on a ticket. 1 July.
2. Henley Royal Regatta . The perfect excuse for a big jug of Pimm's. 2 Jul to 6 Jul.
3. Yahoo! Wireless Festival . 4 Jul to 6 Jul.
4. The Secret Garden Party festival. It's our favourite summer festival by far.
5. Prince George turns one. We'll be toasting His Royal Highness with a glass of champagne and we suggest you do the same. 22 Jul.
August
1. MTV Video Music Awards . Last year gave us Twerkgate, so we can't wait to witness 2014's escapades... 24 Aug.
2. Venice International Film Festival . 27 Aug.
3. Edinburgh Festival Fringe 2014 . 1 Aug to 25 Aug.
4. The Great British Bake Off returns. We heart Mary Berry - 'nuff said.
5. The infamous Notting Hill Carnival will be back. We can't wait for that first piece of jerk chicken.
6. Model of the moment Cara Delevingne is set to continue her transition from catwalk to big screen in 2014. Catch her in Brit indie flick Kids In Love, set for release this month.
September
1. Downton returns. We know autumn has arrived when Lady Mary et al are back on our screens.
2. Vodafone London Fashion Week SS15. We can't wait to check out who's on the FROW this season... 12 to 16 Sep.
3. Posh, a new film about Oxford University's elite Bullingdon Club, will bring a whole host of English heart-throbs to our screens. Hellooo Douglas Booth... 19 Sep.
October
1. Gone Girl is released. One of the biggest novels in years finally hits the big screens - we can't wait to see Rosamund Pike and Ben Affleck in action... 3 Oct.
2. Catch Brad Pitt and Shia LaBoeuf in WWII tank adventure Fury. 24 Oct.
November
1. The Hunger Games: Mockingjay, Part 1 is released. Katniss is back - joy! 21 Nov.
December
Err...like you need anything on top of Christmas to look forward to! Here's hoping that Channel 4 brings back Elf for 2014...
Celebrity news, beauty, fashion advice, and fascinating features, delivered straight to your inbox!