Would you buy an £8 sex toy from Sainsbury's?
We're always here for a budget buy.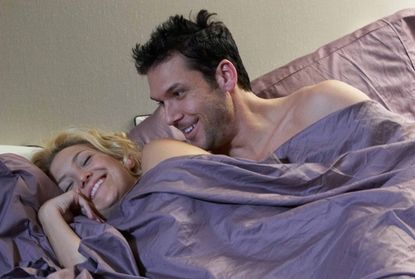 We're always here for a budget buy.
If you pop into Sainsbury's for your weekly shop, you'll be able to grab your frozen food, booze, cleaning products and now a couple of sex toys. Yes, you read that right. The massive grocery chain has just expanded their own-brand range to include a few affordable sex toys for women and TBH we stan a company that finds a niche business opportunity. If you're rolling your eyes or think it's ridiculous, hold your judgment - the range is priced between £8-12. We don't know about you, but at that price we'd definitely toss them in our trolley.
The new line of sex toys includes three vibrators and TBH, they've really leaned into a millennial market as they've gone with a predominantly rose gold theme. Although they aren't available online just yet, if you pop into your local Sainsbury's you're likely to find them tucked between the fruit and veg aisles. There's a couple of bullets and a bigger silver vibrator that run at different speeds, so grab your seat belt and buckle in.
They're being sold at most stores at the moment, with an eye to have the bullets across all 486 UK stores by November 4.
Here's the products below:
RO-80mm Rose Gold Bullet, 7 Speed Bullet
Priced at £8
Available at Sainsbury's
RO-90mm Rose Blush Bullet, 10 Speed Bullet
Priced at £12
Available at Sainsbury's
Aura Silver Vibrator/Massager
Priced at £15
Available at Sainsbury's
As for why Sainsbury's has decided to jump in this direction? They actually conducted a survey called the Living Well Index where they partnered with oxford Economics and the National Centre for Social Research to take stock of the UK's overall wellbeing. They found that there had been a "decline in the number of people reporting they're satisfied or very satisfied with their sex lives", so their little vibes and massagers were a way to help solve that problem.
Paul Mills-Hicks, the Food Commercial Director at Sainsbury's, said, "We are always on the lookout for new opportunities to help our customers live well for less and they've told us that sexual wellbeing is an area they would like to see more choice in."
He continued, "By introducing a new range at affordable prices, we hope to give customers the option to buy quickly and conveniently in an environment they feel comfortable with."
TBH, we might just poke our heads in on our lunch break - for purely scientific reasons, of course. Would you buy a vibrator from Sainsbury's?
Celebrity news, beauty, fashion advice, and fascinating features, delivered straight to your inbox!
Megan is a freelance journalist who covers entertainment and all things lifestyle, with a particular passion for fashion, beauty, travel and Keanu Reeves stories. She has previously worked on staff for titles including Marie Claire UK, CNN Style and The Evening Standard and has written for titles such as Bustle UK, Wallpaper*, Forbes and Hong Kong Tatler. She splits her time between London and her hometown Hong Kong, where she currently lives with the love of her life - an elderly dog named Poppy - and her husband.