Happn: What you need to know about the newest dating app on the scene
Introducing Happn, the newest dating app on the block. We gave the app a test run and this is what we discovered...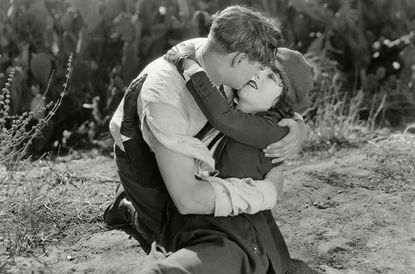 (Image credit: Rex Features)
Introducing Happn, the newest dating app on the block. We gave the app a test run and this is what we discovered...
What is Happn?
It's a new dating app that launched in France five months ago and has just come to the UK. It's got a lot of buzz around it - 100,000 people signed up for the app in the first five weeks. Happn's tagline is 'find the people you've crossed paths with', which it does by helping you discover other singles within a 250m radius.
How does it work?
Happn is much like Tinder in the way that it creates your dating profile by hooking up to your Facebook (though no one need ever know and Happn will never publish anything to your page), then all you have to do is select the gender you're interested in dating and the age range.
It then uses GPS tracking to present you with a list of people near you. It tells you whether you've crossed paths with them once or several times, gives you a map of roughly where you crossed paths, their photos, name, age and profession.
If you like what you see you can hit the red love heart and if the feeling is mutual you have a 'crush' and can start messaging.
You don't have to wait for a mutual like, though, you can just go for it and send a 'charm', which they will definitely see. If you don't get a 'crush' after that you can safely assume this particular user isn't interested.
What do the founders say?
'There are thousands of possible connections that sadly remain impossible. To solve this, Fabien Cohen, talented growth-hacker, Didier Rappaport, serial entrepreneur and Antony Cohen, computer engineer, decide to create an app. An app that loves coincidences and boosts luck again! With their team of young creative developers, they have finally created the app that will save us from missed connections.'
Which, basically means that you actually have a chance of seeing that guy who gave you the eye in organic coffee aisle of Whole Foods again.
Find out more about Happn...
Pros:
1. Easy to set up a profile.
Our tester was up and running in less than a minute.
2. It's definitely one for the youngsters.
We struggled to find many potential dates over 40.
3. It lists people's professions.
This is a major advantage over Tinder, knowing what someone does for a living can make them so much more attractive and, more importantly, give you an idea of things you might have in common.
4. It's handy being able to send charms, without having to wait for a mutual 'like'.
It means you can be sure that the hot architect has seen you (and rejected you - sigh). N.B. Use them sparingly, of all the charms our tester received, not one of them was from an attractive match, so it seems to be a bit of a last ditch option. You don't want to be that person.
5. We came across lots of attractive men.
Lots. Ding, ding, ding.
Cons:
1. It works over a 250m radius.
So it's great for highly populated places like London, less so for tiny villages in the middle of nowhere.
2. The app is a little clunky at the moment.
Our tester tried to change the age range (the default is 18 - 70) and it wouldn't let her.
3. Conversation seemed hard to come by.
Though our user had plenty of 'crushes', as yet, there have been no messages. It's marketed as a dating app for shy people and maybe that really is the case.
4. Great for hook-ups, maybe not so ideal for serious dating.
Being able to meet people within a 250m radius lends itself to instant hook-ups.
Celebrity news, beauty, fashion advice, and fascinating features, delivered straight to your inbox!