Women waiting past 30 to give birth
More and more women are waiting beyond the age of 30 to have a baby, with 27,000 a year delaying motherhood until their forties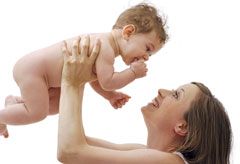 More and more women are waiting beyond the age of 30 to have a baby, with 27,000 a year delaying motherhood until their forties
The number of women giving birth beyond their 30th birthday has more than doubled in the past two decades, with fewer women having babies in their teenage years and twenties.
With better healthcare and fertility treatment making pregnancy easier in older women, data from the Office of National Statistics shows women are choosing to wait longer before starting a family, perhaps due to increasing career commitments and opportunities.
'The rising numbers of women conceiving for the first time in their 30s or 40s follows a trend we have seen over the past decade, although the number conceiving over 40 is still relatively small,' says Elizabeth Duff, a senior policy adviser at the National Childbirth Trust.
ONS figures show that in 1990, 229,400 pregnancies occurred in women over 30, with 12,000 of those conceived by women in their 40s. By 2009, this figure had risen by 55% to 356,300 births, with the number among women over 40 more than doubling.
Women are choosing to delay motherhood for a number of reasons, including the growing desire to build a career or achieve financial independence. Many just don't feel ready to settle down or fear they can not cope with the costs of raising a child.
Ms Duff argues older women should feel well supported and confident about having the type of birth they want and maternity services should be equipped to meet those needs.
'Many older women who are fit and well can go on to have a straightforward pregnancy and birth, and a healthy baby,' she says.
Marie Claire wants to hear your views ont he subject. Did you wait to have children in order to pursue a career? Perhaps you were a young mum and believe women can juggle motherhood with a successful occupation? Let us know posting a comment below.
Celebrity news, beauty, fashion advice, and fascinating features, delivered straight to your inbox!