Vitamin A could prevent blindness in old age
A drug based on Vitamin A could save the sight of millions in old age.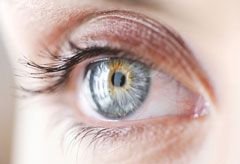 A drug based on Vitamin A could save the sight of millions in old age.
Researchers in New York think they may have found a drug, based on vitamin A, which could prevent millions from losing their eye sight as they get older.
The drug, fenretinide, was found to halt the advances of old age-related muscular degeneration, which is the most common cause of blindness in older people.
The most prevalent form of the condition, known as dry AMD, robs sufferers of their sight by creating a black spot in the centre of their vision, caused by the deterioration of cells in the retina.
Dr Jason Slakter, from New York University School of Medicine, said: 'There are currently no effective treatments for dry AMD and the need for finding one is grave. I am excited about doing more studies.'
The condition affects 300,000 Britons, and the number could treble to one million within 25 years as the population ages.
Doctors are confident that if the drug lives up to its initial promise it could be in widespread use for dry AMD by 2015.
Fenretinide also halved the odds of patients who already had dry AMD, going on to develop wet AMD where tiny blood vessels bleed into the retina.
A spokesman for the research team said: 'Years of use of fenretinide to treat cancers and rheumatoid arthritis have shown it to be safe and well-tolerated.'
Celebrity news, beauty, fashion advice, and fascinating features, delivered straight to your inbox!