Teetotal days advised by Government
Drinkers will be advised to have teetotal days each week as the Government announces a review of alcohol guidelines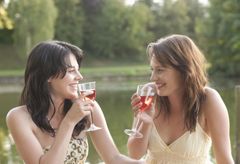 (Image credit: REX)
Drinkers will be advised to have teetotal days each week as the Government announces a review of alcohol guidelines
Has a glass of wine a night become the norm? The existing daily drinking limit has come under attack for wrongly implying that daily drinking is healthy.
The Department of Health will lead the first review on drinking advice in the past 15 years with the aim to drawing up a new set of UK-wide rules which are less easily misinterpreted.
The review could lead to guidelines which advise a two day abstinence from alcohol each week and a specific guide for those occasions where heavy drinking is likely.
The current guidelines, introduced in 1995, advise men not to exceed three to four units of alcohol per day and women not to drink more than two to three units.
But critics argue the daily limit allowance gives the impression that drinking alcohol every day is healthy.
'Safe alcohol limits must take in to account frequency,' says Professor Sir Ian Gilmore of the Royal College of Physicians.
'There is an increased risk of liver disease for those who drink daily or near daily compared to those who drink periodically or intermittently.'
Earlier this year MP's recommended that Britain should follow Scotland in advising the public to have at least two alcohol-free days a week. CLICK HERE FOR MORE HEALTH NEWS
Celebrity news, beauty, fashion advice, and fascinating features, delivered straight to your inbox!